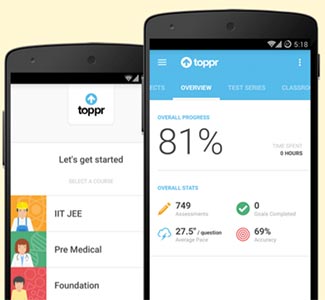 Mumbai-based Haygot Education Pvt Ltd, which runs online test preparation portal Toppr, has acquired edu-tech startup Manch.
Manch was founded in 2013 by IIT alumni Rajshekhar Ratrey, Aadil Shah and Vikas Verma. Manch consists of a knowledge delivery platform which enables an individual to obtain competence using the platform's in-built analytics and recommendations.
Manch is Toppr's second acquisition within a year. In April last year, it acquired EasyPrep, an online entrance exam preparation platform, for an undisclosed amount. Emails sent to Toppr did not receive a response at the time of writing this report.
"The team of Manch is trying to address the core focus area of Toppr – to personalise K12 education with the help of technology," said Toppr founder Zishaan Hayath, in a report by Yourstory.
In May last year, Toppr had raised $10 million (Rs 63.5 crore) in a Series B round of funding led by Fidelity Growth Partners India. In May 2014, the firm had raised $2 million (Rs 12 crore) in seed funding from SAIF Partners and Helion Ventures.
Toppr was founded in 2013 by Zishaan Hayath (previously worked with Opera Solutions and ITC Ltd) and Hemanth Goteti (previously headed engineering at Futurebazaar.com and worked with Qlip Media, Synechron and Ubiquity Inc). Before setting up Toppr, Hayath—who himself is an active investor having backed firms such as Housing.com and Olacabs.com—had also co-founded a phone commerce startup Chaupaati Bazaar which was acquired by Future Group in September 2010 and also runs an angel investment group called Powai Lake Ventures.
Toppr is a test preparation platform for engineering, medical and secondary schools students. The platform covers exams such as IIT JEE and BITSAT in engineering; NEET, AIIMS, AIPMT, AFMC, MT-CET and EAMCET in medical; and NTSE, NSO, NSTSE and KVPY, among others in the secondary school level.
---