Background verification firm BetterPlace gets under $1M from Unitus Seed Fund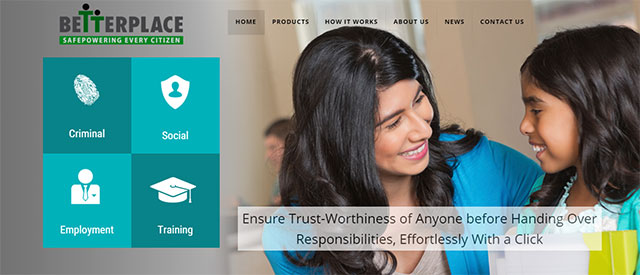 BetterPlace Safety Solutions Pvt Ltd, a Bangalore-based startup that uses data analytics to perform background verification services, has raised $970,000 (Rs 6.6 crore) in seed funding from India-focused early stage investor Unitus Seed Fund.
In a press release, the startup said that the money raised will be used to accelerate technology development, increase operational capabilities and expand geographic presence.

"BetterPlace's strong technology platform and the underlying data analytics and application tools will bridge a much-needed gap in the safety quotient of the country," said Will Poole, co-founder and managing partner, Unitus Seed Fund.
Founded in January 2015 by Uday Singh and Pravin Agarwala, BetterPlace provides personal, employment, educational, criminal and training verification services. Agarwala previously headed SAP's cloud computing division as vice president. Singh is also the group CEO of SIS Group Enterprise.
BetterPlace offers multi-point verification services across digital and offline channels. It leverages Aadhaar information, tracks digital footprint of an individual and crowdsources social media data, besides conducting traditional background checks.

Before making a hiring decision, employers can search by name, mobile number or a valid ID to view the candidate's profile. The platform also allows users to create base profiles that are verified by BetterPlace.
The legwork for physical background verification is done by a 2,000-member strong 'feet-on-street' team from third-party agencies. BetterPlace's technology, account management and marketing teams comprise of 40 staffers who operate out of its headquarters in Bangalore.
The company hopes to create a database of 10 million profiles by 2016-end. It has tie ups with startups such as Housejoy, CommonFloor, RoadRunnr and Swiggy.

In November last year, BetterPlace raised an undisclosed amount in funding from former Google India executive Lalitesh Katragadda. As part of the transaction, Katragadda joined BetterPlace's board.
Founded in 2012, Unitus Seed Fund is part of the Unitus Group, a financial services group operating in India and other emerging markets since 2000. The Bangalore-and Seattle-based fund has made 25 investments in India across sectors such as healthcare, education, mobile, e-commerce and retail & agriculture.
Unitus Seed Fund recently roped in Ashwin Naik, founder of Bangalore-based Vaatsalya Healthcare Solutions Pvt Ltd, as a healthcare fund advisor.

Its sister firm Unitus Impact, an early-stage impact investor that focuses on firms in India besides a few countries in Southeast Asia, recently completed fundraising for its maiden Livelihood Impact Fund.
---