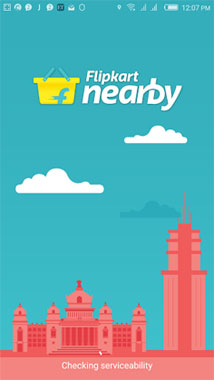 The country's largest e-commerce venture Flipkart has shut down its grocery delivery app Nearby, five months after it was launched in Bangalore.
"Flipkart Nearby was a piloted in select areas of Bangalore. The experiment was a test for understanding efficiencies and operations of the hyper local business. The project has now run its course and the learnings from this pilot will now be used for future operations of the company," a Flipkart spokesperson said.
The decision to close Nearby was first reported by Mint, citing unnamed sources. Lack of demand and wafer-thin margins compelled the company, which recently elevated co-founder Binny Bansal as CEO, to close Nearby, the report suggested.
Till recently, the app was functional in 14 locations across Bengaluru. It connected users with hyperlocal grocery outlets for delivery of daily usage products such as branded food, groceries & staples, beverages, household supplies, personal care, health & wellness and baby-care.
Several horizontal e-commerce platforms have shown interest in the grocery delivery space. Recently, Amazon India unveiled its hyperlocal grocery delivery service through which it offers two-hour delivery service for daily essential items. The service is currently available only in Bangalore.
Mumbai-based ANI Technologies Pvt Ltd, which runs online cab hailing service Ola, had launched  grocery delivery app Ola Store in June 2015.
Snapdeal recently invested in Gurgaon-based PepperTap, a hyperlocal grocery delivery startup.
Late last year, PepperTap acquired Bangalore-based hyperlocal grocery delivery startup Jiffstore.
However, a bunch of hyperlocal delivery services players are having a rough ride now.
Grofers India Pvt Ltd, the country's most funded hyperlocal grocery delivery startup, recently shut down its operations in nine cities after running a massive expansion drive. Mumbai-based Localbanya, a three-year-old online supermarket backed by Shrem Strategies and Bennett, Coleman & Co Ltd's Springboard Fund, stopped taking orders in October 2015.
---