How Fringle gets everyone to the party without losing their way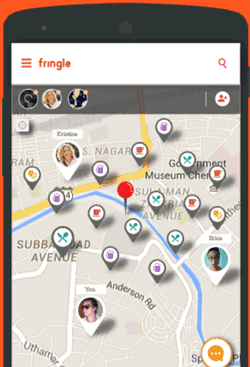 It is your parents' wedding anniversary and you have planned an evening out with friends and family to celebrate the occasion. The restaurant bookings are done and the celebrations are about to begin. However, as the evening approaches, you are inundated with calls asking for directions to the venue, even as you try to track the late arrivals and update your guests about everyone's whereabouts. Before you know it, you are too tired to talk. That too, even before the party has begun!
However, with Fringle, get-togethers don't need to be so chaotic. The Fringle app allows a group of people who are on the app to track each others' location and also suggests places that are suitable for them to convene, depending on their location.
In the three weeks since its launch, Fringle claims to be have acquired 1000 users, who have a repeat user rate of 20 per cent every day. The app offers its services in Delhi, Mumbai, Bangalore, Chennai. "Majority of the users are from Delhi," says Raja Manohar, co-founder, Fringle.
How it works
The founders call Fringle a step towards the "uberisation of persons", with the additional feature that it takes into account multiple persons rather than being oriented towards a single person.
Hexolabs Interactive Technologies Pvt Ltd, which runs the app, had college-going students in mind when it was designing the app. It was, therefore, pleasantly surprised when other people also found the app useful. "It is being increasingly used by family members, such as parents tracking their children, and so on," says Manohar.
The app allows people to make various groups by sending invites to their friends and family. On accepting the invite, group members can see each other on the map for 120 minutes. The app also shows expected time of arrival (ETA) for each member on the map. Venue suggestions are based on the locations of all the group members to allow for easier decision-making. In addition to the location services, the app also features an in-built chat platform.
Other use-cases are carpooling with colleagues, guiding someone who is new to the city, and official events.
Money matters
The startup's revenue model revolves around brand activation. The app allows local business owners to reach out to nearby customers by sending targeted ads. It also allows brands to build dynamic promotional campaigns targeted at groups of people. "For example, if you are a Volkswagen showroom who has just launched a car, customers near the location will be notified. It is appropriate for communicating with that certain segment of audience rather than the whole city. Also, brands can design their promo campaigns in a similar way, such as a group of four paying for three when they visit a restaurant, etc.," says Manohar.
However, the business model of the company still leaves a few investors unconvinced. "While it solves a real problem, it has many substitutes. Hence, the available market for it would be limited," says Anil Joshi, managing partner at Unicorn India Ventures, an early stage venture capital fund focused on B2B startups in the SMAC (social media, analytics and cloud) sector. Also, the revenue model is based on listing of nearby places and offers (mainly on hyperlocal model). If an user is not interested or is not in a position to avail the available offers, it will be a lost opportunity for the advertiser. "My take is that it is solving some problem but the revenue model seems weak, as it is dependent on several parameters and success could be subjective." According to him, the founders need to make it more robust and sticky. An alternative is to build the solution around an industry leader with whom they can align in the future, he says.
Founders, funding
The location based group networking platform was founded six months back by Raja Manohar, Venkatesan Vinayagam, and Vasanth Velumani. Manohar and Vinayagam are serial entrepreneurs who have earlier dabbled in gaming and mobile value added services, while Velumani worked with Accenture prior to founding the startup.
The three founders have pooled in around $100,000 to fund the startup, and hope to raise external funds soon. "We are currently talking to advertising agencies to bring brands on board," says Manohar. Once the brands are on board and the number of users go up, Fringle hopes to raise $500,000 from institutional investors in the coming months.
Comment(s)