Advertising technology firm Vdopia Media and Software Solutions Pvt Ltd has launched two new tools under its programmatic brand Chocolate -- Preferred Marketplace for advertisers and Supply Side Platform for premium publishers.
With the launch of the two new tools, the ad tech firm has completed its product offering in the space of programmatic advertising. The company has launched the new tools after a gap of one year. In November 2014, Vdopia had introduced programmatic buying and selling marketplace under the brand Chocolate for mobile video advertising in India.
"We have integrated Nielsen digital ad ratings in the two new tools along with the existing tool – Chocolate marketplace. This allows both publishers as well as advertisers to slice and dice their audience base depending, on location, age and various other preferences," says Saurabh Bhatia, CEO, Vdopia.
Bhatia adds that the marketplace, which the company had launched in 2014, is an open place which allows publishers to auction their ad inventory and advertisers to buy it. "With the usage of the new tool, now advertisers can also push native video content on a publisher's mobile site or application," adds Bhatia.
Chocolate uses Vdopia's proprietary VDO technology which enables advertisers and publishers to seamlessly run video-enabled ads on the mobile web and apps without Flash or plug-ins.
The ad tech firm claims that it was the success of the Chocolate marketplace that made it take a deep dive in programmatic buying. The company claims that within a year of its launch, Chocolate marketplace has seen an increase in number of auctions from 1 billion a month to 30 billion a month, besides a 500 per cent growth in revenue.
The methodology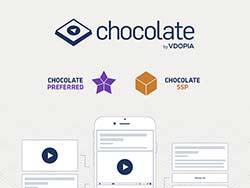 Verified by Fraudlogix, an US based firm which cross-checks database, 'Chocolate Preferred' provides access to premium mobile video advertising inventory. The platform showcases inventory by verified audience segments via partnerships with several data and measurement providers including cloud-based big data platform Blue Kai as well as Nielsen.
'Chocolate Supply Side Platform' (SSP), meanwhile, helps publishers in managing new mobile video formats such as out-stream and in-stream video for mobile web and app inventory.
The company last year launched InView, a native video ad format for mobile. InView enables advertisers to place brand video ads inline on mobile sites.
As per Bhatia, it takes about a year to develop a new product, especially in the domain of mobile advertising.
As per the annual Pitch Madison Media Advertising Outlook (PMAO), digital advertising is expected to grow by 30 per cent to reach Rs 6,656 crore by the end of 2016. The medium showed 29 per cent growth in 2015 on the back of demand for video, social and mobile. The report states while ad spends on search is likely to stabilise, display advertising on desktop will see a drop. Programmatic buying, which saw some traction in 2015; is likely to further strengthen in 2016.
---