It isn't about business anymore. It's getting personal. Founders of two of India's largest e-commerce companies, Flipkart's Sachin Bansal and Snapdeal's Kunal Bahl, got down to washing their dirty linen in public and the platform chosen was microblogging site Twitter.
On Friday, reacting to reports that Chinese e-commerce giant Alibaba is contemplating a solo play in India even as it remains heavily invested in Snapdeal and Paytm, Flipkart's co-founder and executive chairman Sachin Bansal, tweeted:
Alibaba deciding to start operations directly shows how badly their Indian investments have done so far

— Sachin Bansal (@_sachinbansal) March 25, 2016
Snapdeal co-founder Kunal Bahl was quick in his response:
Didn't Morgan Stanley just flush 5bn worth market cap in Flipkart down the ? Focus on ur business not commentary :) https://t.co/8NpkhWWo2j

— Kunal Bahl (@1kunalbahl) March 25, 2016
Rivalry between companies chasing the same customer is unsurprising. The legendary war between rivals Pepsi and Coca Cola is a case in point.
Flipkart and Snapdeal have been engaged in a battle of wits for long. The tug-of-war intensified in the past three years as the two fought hard for market share and the mind space of the same, albeit small, set of buyers. Estimates suggest that of the 350 million internet users in India, only 35-40 million transact online.
No eyebrows were raised when the two companies spent millions of rupees in running no-holds-barred advertising that more often than not sought to ridicule the other. It was all but seen as healthy, though sometimes juvenile, rivalry between peers.
The public shootout between the founders of the two companies, however, points to a rising disquietude in the industry. The latest sparring match isn't only about market share. It isn't about winning the customer. It isn't about pushing one's brand recall.
It is a fight that reveals the strain that the e-commerce industry in general, and Flipkart in particular, is going through.
It comes at a time when the industry is getting more and more anxious about the financial health of companies that continue pumping in millions of dollars in their operations with no sign of profits in sight. Flipkart's two key operating companies in India reported a net loss of Rs 1,933 crore on total revenues of Rs 10,309 crore while Snapdeal had a net loss of Rs 1319 crore on an income of Rs 938 crore in the financial year ending March 2015.
Compounding this is the blind chase of high valuations by companies, which despite their poor balance sheets, have managed to raise billions of dollars in investments from shrewd global players such as Alibaba and Amazon, who, in turn, are placing their bets on the potential of the Indian e-commerce market.
It has especially been a period of strife for Flipkart, currently the country's largest e-commerce player with a market share of around 45 per cent in the industry-wide reported gross merchandise sales of around $13.5 billion. A report by Morgan Stanley released in March said rival Snapdeal had 26 per cent market share while Amazon India only had 12 per cent share in the total value of goods transacted on e-commerce sites.
Recent reports that Flipkart had been in talks with the world's largest e-commerce player and also, a bitter rival in India, Amazon for a possible selloff had the industry agog with speculations that Flipkart might not be able to hold out on its own for too long in a market that is increasingly getting challenging.
Earlier this month, The Economic Times reported that Amazon walked off the talks owing to Flipkart citing high valuation. Indeed, Flipkart denied the report but that did little to douse the industry chatter on the possibility of a sellout in future.
This came alongside another report that a mutual fund owned by Morgan Stanley had slashed the value of its stake in Flipkart by 27 per cent. It was reported that earlier this year, in a filing to the US Securities and Exchange Commission, Morgan Stanley Institutional Fund Trust said it had revised the value of its stake in Flipkart to $58.9 million in December 2015 against $80.6 million in June 2015. Theoretically speaking, this pulled Flipkart's valuation down from a reported $15 billion in May 2015 to $11 billion.
Adding insult to Bansal's injury came the report that Snapdeal's valuation had risen to $6.5 billion post a fresh round of investment of $200 million.
Mounting financial pressure and a consistent flow of negative news may have distressed Flipkart co-founder and he seems to have taken to Twitter to let off some steam.
The public embarrassment that followed was something Bansal, as an industry leader, should have anticipated. His effort to downplay the episode by sending a cheeky smiley to his rival didn't do much in terms of damage control.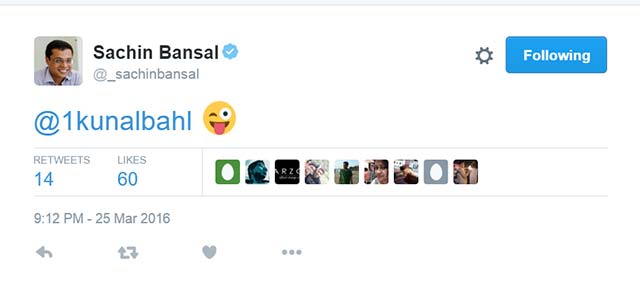 ---