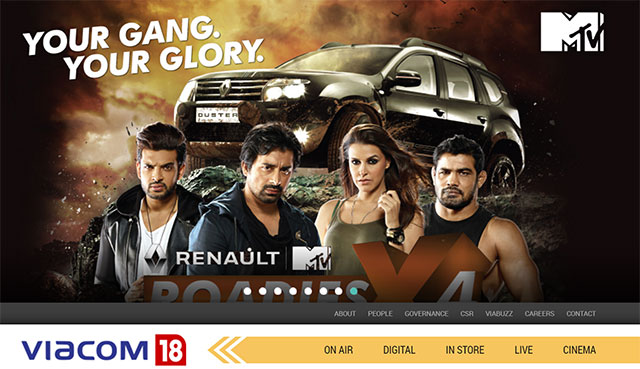 Viacom18, a joint venture between Mukesh Ambani owned Network18 Media & Investments Ltd and Viacom Inc, has finally launched its digital video platform, Voot.
It will be competing against other broadcaster owned video platforms such as Zee Entertainment Enterprises Ltd owned DittoTV and Ozzy, besides Sony Liv run by Sony Pictures Networks India Pvt Ltd (SPN) and Star India Pvt Ltd owned Hotstar, apart from third party platforms such as VuClip, NexGTv, Spuul and Hooq.
However, attracting eyeballs may not be that easy for Voot. Viacom18 has no presence in the sports genre. Hence, it will be unable to ride on popular sports tourneys to drive usage or engagement, unlike Hotstar which was launched on the back of ICC World Cup.
According to media research agency Media Partners Asia, as of December 2015, the online video market in India was pegged at $140 million, with Google Inc's YouTube capturing a lion's share of the market.
The last broadcaster to enter the over-the-top (OTT) online video market, Voot has 70 per cent catch-up content, essentially content the television network produces annually, across genres for its Hindi, English as well as regional channels, with the remainder split between original and exclusives.
The exclusive content, called 'Voot exclusive', is content from the network's reality shows such as Bigg Boss, Jhalak Dikhhla Jaa and Khatron Ke Khiladi, which has not been aired.
Citing the example of its reality show Bigg Boss, Sudhanshu Vats, Group CEO, Viacom18 said, "The Bigg Boss house has 70 cameras installed, which in total churn out 840 hours of content every day. Of this, we show 45 minutes of curated content on TV. Under 'exclusive', we plan to use this kind of content, to create content around content."
Unlike other broadcasters who added original content a few months after the launch of their respective OTT platforms, Voot claims to have original content from day one. Called Voot Originals, these are web-series, films and shows with fewer episodes, of 15-30 minutes duration. Five original shows have debuted with the launch, Vats said, adding that the aim is to "have one original content every month".
Media analysts say that despite being late in the game, Viacom18 seems to have the same content strategy as the rest of the players. When it comes to content, all platforms, whether broadcasters owned or third party, are trying to create a mark by creating original content, which is a small portion of the pie. "Right now, in case of broadcasters, it is the money earned from TV which is funding these new businesses. But they will not be able to carry on like this for a long time," says Timmy Kandhari, managing director, Sapphire Professional Services, a financial advisory services firm.
Vats, however, is unperturbed and says that the network will continue to concentrate on building content around comedy, reality, drama and kids "the genres where it already has a strong presence on TV.
"While a sports tourney does help in bringing viewers to the app, this is a short term gain," said Vats. "The online video business is not about numbers of downloads. Rather, it is about time spent on the app and repeat usage. We are looking at creating that repeat user base."
Since the app is free-to-watch, Viacom18 will be following an advertising driven business model. According to industry estimates, broadcasters charge Rs 50-100 CPM (cost per impression) and Rs 3-6 per CPV (cost per view) on these platforms. With ad rates remaining low in digital media, earning revenue is challenge.
However, Vats says the company will introduce a paywall for its premium content after a year or two. "By then, the market would have matured in terms of penetration of broadband services and 4G service," he explains.
Agrees, Rajiv Dingra, founder and chief executive, digital agency, WATConsult, a wholly owned property of WATMedia Pvt Ltd, who says, "The industry is going through a phase where viewers are getting a taste of various kinds of content and formats online. It will take another two-five years for it to mature and the business model to stabilise."
The OTT story does not end with the launch of Voot, as the market is gearing up for two more launches. Arré, owned by former Network18 executives B Saikumar and Ajay Chacko, and Balaji Telefims' ALT are joining the queue soon.
---