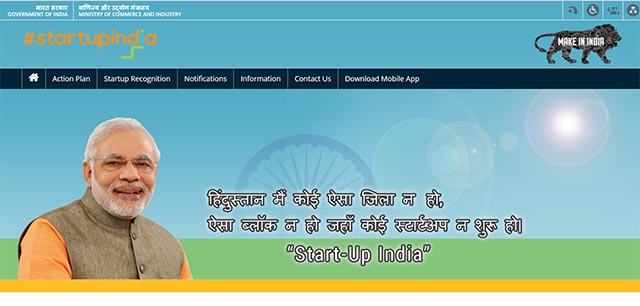 Getting the much-talked-about government-recognised tag of startups became easier on Friday with the launch of the Startup India portal and app. Startups can now get themselves an instant digital certificate on registering on the website startupindia.gov.in though this in itself doesn't bring a truck load of benefit.
If one wants to get tax and IPR related benefits (click here for more on that) an additional request can also be made simultaneously. Though this would be applicable only if the inter-ministerial board approves the application.
While getting a startup tag is real time activity with self certification (provided one has any of the half a dozen supporting documents or letter of recommendation and this is mandatory), the latter involves a validation from the authorities. Tax and IPR benefits would be granted within a period of 10-25 days.
The portal also makes it easy for startups to access names of government recognised incubators/accelerators (there are 68 of them on the site at present) besides SEBI registered fund houses that can be one point of validation.
On the flip side, the government note has added the penal clauses for false certification.
"Where a recommendation is issued by an incubator without proper examination or without itself satisfying about the innovative nature of the business it shall be blacklisted from giving any future recommendation or receiving any benefit from government. Any such action shall, however, be taken only after a due opportunity is given to the incubator," it said.
The norms for funds that can give a recommendation letter have even more stringent clauses besides being blacklisted.
"Where a recommendation is given without actually funding equity (not less than 20 per cent equity) of the startup, DIPP may initiate criminal proceedings against the principal officers of the fund for providing wrong information," the government note says.
The portal and mobile app also provides information on notifications/ circulars issued by various government ministries.
We did spot a page that deals with labour laws throwing error, however.
To be fair, this is the first day and the government itself acknowledged that it is the first phase of implementation. It added that in the second phase it would make it a single point of interface starting with incorporating a firm to getting the startup tag. In the meantime, startups would need to register through MCA or Registrar of Companies.
It has also set up Startup India Hub, a single point of contact for the startup ecosystem – including the government, venture capitalists, incubators, angel funds and mentors – to enable exchange of knowledge. The Hub can be accessed via a toll free number.
The Startup India Action Plan states that such firms can also apply for various government schemes; however, that is yet to be made a part of a seamless process on the portal, too.
---