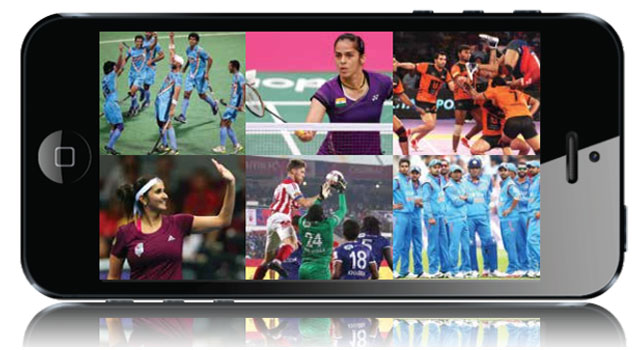 For fans heading out to stadia to watch their favourite teams play, the mobile phone is their best buddy. Whether cricket, soccer or kabaddi loyalists, 70 per cent of fans bring their mobile devices to a stadium for check-ins, making videos and clicking photos, indicating that mobile marketing is a powerful tool not just for brands sponsoring sports events, but also sports teams and tournaments.
This is one of the key findings of the just released ESP Properties-SportzPower India Sports Sponsorship 2016 report. The report, produced jointly by ESP Properties, the entertainment and sports division of GroupM, and SportzPower, a provider of sports and business news, said overall sports sponsorship grew 12.3 per cent to touch Rs 5185.4 crore ($798 million) in 2015 from Rs 4616.5 crore ($709 million) in 2014.
"In-stadium is the new form of pushing SMS communication to a captive audience rendering location based ads to drive specific marketing objectives of franchisees and brands," the report said.
Mobile is ideal for the sports consuming demographic which is young, educated and tech savvy, it said, pointing out that for the urban male in the 18-55 years age group, sports is the second most consumed content on mobile. Overall, 46 per cent of mobile internet users use their mobile to search sports and news content.
Brands can do a lot more for the tech savvy sports enthusiast, said the report. Augmented reality holds immense possibility, it says, adding, "VR glasses are an opportunity waiting to make brand experiences surpass recall targets." It said that content on mobile integrated with traditional media has the potential to engage consumers in a more meaningful way. Promoting sports events and players inside popular mobile games is waiting to be explored. "Major gaming apps have opened up their inventory native to the gaming environment; this gives brands an opportunity to design campaigns within relevant contexts," it said.
The popularity of different sports leagues and their star players continues to soar on social media. The top ten athletes who generated maximum buzz on the internet were cricketers Virat Kohli, MS Dhoni, Sachin Tendulkar, Shikhar Dhawan and Rohit Sharma, along with badminton Saina Nehwal, tennis player Sania Mirza, pugulist Mary Kom, footballer Sunil Chettri and veteran tennis player Leander Paes, according to the ESP Properties-SportzPower report.
The Indian Premier League (IPL) is the most talked about sports league on social media including Twitter and Facebook, followed by Indian Super League (ISL) and Hockey India League (HIL). Although Pro Wrestling League (PWL) is lowest in terms of Facebook and Twitter following, it is the third highest in terms of engagement among the six big leagues – IPL, HIL, ISL, PWL besides Indian Premier Tennis League (IPTL) and Pro Kabaddi League (PKL). The volume of IPL conversations during the 2015 season is the same as cumulative conversations around IPL teams. In case of IPL, the top three drivers on social media are Kolkata Knight Riders (KKR), Royal Challengers Bangalore (RCB) and Mumbai Indians (MI).
While ISL teams, too, managed to get their share of limelight on social media, leagues such as IPTL, HIL and PWL need to focus on building more traction on their social media assets, said the report.
---