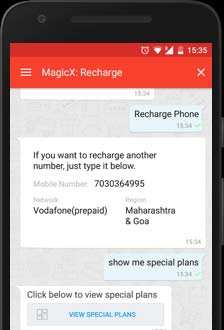 Bangalore-based Magiclane App Services Pvt Ltd, which operates on-demand task management app MagicX, has raised $1 million (around Rs 6.6 crore) in seed funding from Infosys co-founder Kris Gopalakrishnan and Dr. Ranjan Pai, MD and CEO of Manipal Education and Medical Group.
Sify co-founder R Ramaraj, Singapore-based Lionrock Capital's partner Hari Kumar and CMS Computers' MD Aarti Grover also participated in the round.
The funds raised will be used for team expansion, marketing initiatives, addition of more service categories and technology upgradation.
MagicX is also in talks with four venture capital firms to raise $5 million in a Series A round, a company statement said.
Conversational and chat enabled commerce is touted to be the future of e-commerce. Not surprisingly, quite a few startups have sprung up in the last few months and some of them have seen investor traction.
Last month, Gurgaon based invexGO Solutions Pvt Ltd, which runs on-demand concierge startup Qlivery, raised  $230,000 (around Rs 1.5 crore) from Hong Kong based Swastika Company Ltd.
Also, Bangalore-based daily tasks management app Dunzo raised $650,000 (around Rs 4.4 crore) in pre-Series A funding led by Aspada Investment Advisors and Blume Ventures.
In December 2015, Joe Hukum, an app-based provider of concierge services, raised an undisclosed sum in seed funding from TracxnLabs, Citrus Payments' Jitendra Gupta and 1mg.com's Prashant Tandon.
Last year, Lookup raised $2.5 million in Series A funding led by venture capitalist Vinod Khosla's personal fund, Khosla Impact, with participation from Biz Stone (Twitter co-founder). Also, Goodbox secured $2.5 million (Rs 16.5 crore) in Series A funding from Nexus Venture Partners while Goodservice received $1.6 million (Rs 10 crore) in seed funding from Sequoia Capital in June 2015. Haptik, Yellow Messenger and OK Sir are the other players in this segment. Helpchat, which is backed by Sequoia Capital, recently pivoted into a chat based personal assistant app.
"Bots and artificial intelligence are the next frontiers in technology. I am excited to back this team which is working in cutting-edge technologies," said Kris Gopalakrishnan, co-founder and former vice chairman and CEO of Infosys.
Launched in February 2016 by Pratyush Prasanna and Arun Kumar, MagicX enables users to carry out day-to-day tasks including grocery shopping, bill payments, mobile recharge, ordering food, booking flight tickets and other utility services through a chat enabled, artificial intelligence platform. MagicX is promoted by GrowthStory, the venture builder platform founded by Bangalore serial entrepreneurs K Ganesh and Meena Ganesh.
Prior to this venture, Prasanna served as the vice president at Paytm. He had earlier founded Plustxt, a privacy enabled text messaging service which was later acquired by Paytm in 2013. Arun Kumar served as senior vice president at healthcare startup Portea Medical prior to this venture.
Currently available only in the Android platform, the chat enabled platform has tied up with about 20 partners across e-commerce, bill payments, recharges, groceries, travel, etc. The app claims to have witnessed more than 10,000 downloads.
"With the addition of newer categories such as food, travel and e-commerce, as well as targeted marketing, MagicX aims to be the largest conversational commerce company in India," said Prasanna.
---