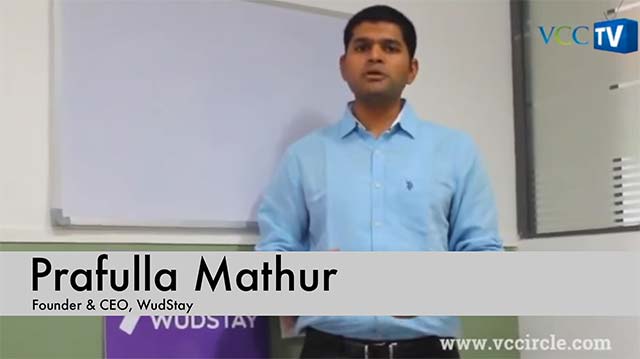 When Rahul Gupta joined a coaching centre in Kota to prepare for his engineering exams, he was expecting to stay in a dingy one-room flat for the next one year. Till he got to know about Wudstay's standardised paying guest (PG) accommodation in the city known for its numerous coaching shops. "My friends saw the website of Wudstay and when I came here with my parents we saw hoardings of Wudstay PGs and that's how we booked this PG," he said.
Wudstay Travels Pvt Ltd – which started off as a OYO Rooms rival in the budget hotel aggregation space – has been quietly carving out its own niche in the PG segment. Realising that the budget hotel space was getting increasingly crowded with the entry of too many players undercutting each other, Prafulla Mathur, the 33-year-old founder and CEO of Wudstay decided to enter the long stay segment where its expertise could be leveraged. "Almost all the startups are aggregating hotels. In PGs and retirement homes, we are the only player offering a standardised room," Mathur claimed.
In Kota alone, Wudstay has 170 PG properties under its umbrella. The city sees more than 2 lakh students arriving each year to prepare for competitive exams, making the PG accommodation segment a $180 million market in this city, Mathur adds. "We have 10,000 beds already occupied for the next one year," he said.
Jaipur is the second city in Rajasthan that Mathur has zeroed on. "Kota was inexpensive so the city blossomed as an education hub. However, now the largest engineering preparation institutes have started expanding to Jaipur," he said. "Jaipur draws 70,000 -1 lakh students every year." Wudstay has 30 PG properties in the pink city. It plans to expand to 30 more cities in this booming segment.
"The very fact that the PG business in India is hugely fragmented and unorganised lends itself to a strong business opportunity," said Mark Tluszcz, co-founder and CEO, Mangrove Capital Partners.
It isn't just students that Wudstay is after. The aggregator is also chasing working professionals who are looking for a roof over their heads but without the attendant hassles. It has tied up with 100 PG properties in Delhi NCR, Mumbai and Bangalore and is scouting for more.
For PG properties, Wudstay follows the same procedure it has perfected for its hotel aggregation business. The Wudstay team visits each property and ensures that the owners fulfill all quality and service benchmarks. Only then is the Wudstay tag given to them. "Since we are the first entrant in this space, it becomes imperative to familiarise PG owners of the value that association with a brand such as Wudstay brings to the table," said Mathur.
Students as well as parents appreciate this attention to details. "We can call Wudstay customer support number any time if we want to go out or are facing some food issues. There are more facilities such as doctor-on-call," said Gupta, adding this was one of the reasons why his father chose a Wudstay PG for him.
Wudstay follows a revenue sharing model in this space, keeping 20-30 per cent of the monthly rental. "In Kota and Jaipur, the monthly rent starts from Rs 6000 a bed, going up to Rs 14,000 in case the properties sport amenities such as air-conditioning, more dishes on the menu and bigger rooms," said Mathur. "In places such as Gurgaon, it starts from Rs 8500 per month."
In February, the Gurgaon-based startup entered the retirement home space also. There are two kinds of retirement homes it has on offer – long-stay places as well as daily packages. As of now it has 25 retirement homes spread across Vrindavan, Mathura, Gurgaon, Delhi and Mumbai and is looking to set up base in five more cities in the next 12 months.
Customers pay a monthly fee of around Rs 25,000, and Rs 800 on a per night per room basis. Amenities such as minimum medical facilities and personal assistants are also offered to the senior citizens. "At our metro centres, many young working couples drop their parents in the morning and pick them up on their way home in the evening," said Mathur.
While Mathur declined to share the number of customers served in this space, he said that Wudstay retains 20 per cent of the revenue generated. Even as Wudstay is aggressively expanding in the PG and retirement home spaces, it is still betting big on the $30-billion budget hotel accommodation market. Currently, the company – which works on a revenue sharing model retaining 20-40 per cent of the revenue generated in this space -- has over 500 hotels and guest houses across 45 cities in India. In January 2016, it claims to have served 58,000 room nights. By 2016 end, Wudstay aims to expand to 20 more cities and have around 1,000 hotel properties in its network.
"Our vision is to be a company which is the gold standard for charting the full life span accommodation requirements and not just hotels," Mathur claimed.
To fund its expansion plans, Wudstay is talking to investors to raise the next round of funding. Last year, it raised  $3 million in Series A funding from Mangrove Capital Partners and Nimbuzz CEO Vikas Saxena.
---