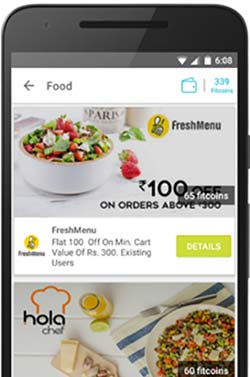 Ever signed up for a fitness programme and then quit within days? You had your reasons – bad weather, too expensive, too busy a schedule – but deep down you knew you weren't motivated enough to stick to the gruelling regime.
Pankaj Bora and Shubham Goyal, too, had faced the same challenge. None of the expensive fitness bands and gym memberships could motivate them enough, and those hard-lost kilos were soon back.
"We figured that there was something lacking. We got different types of gadgets and gym passes, but nothing worked," says Bora. "We realised that the problem, which was also faced by many of our friends, could only be solved through rewards and competition."
It was to kindle that motivation, that the duo designed Fitard, a fitness tracking app that rewards users with Fitcoins, a virtual currency, on completion of targets.
How it works The app offers various public and private fitness challenges, with a duration of one to seven days. Public challenges are open to everyone and are sponsored by the partnering brands, who give away prizes to the top three or five winners. Private challenges are for friends and family who compete with and monitor each other. Only 10 people can participate in a private challenge at a time.
"Fitard has Google Fit integrated into it, which helps it detect cycling, swimming, walking, running and other activities done by the user," explains Bora. As of now, Fitard offers challenges such as walking and running different distances.
IT professional Harish Khatik, who has been using the Fitard app for two months, says he now has a more healthy and active lifestyle. And all the sweat and pain hasn't gone unrewarded. "Once you win a challenge, you get motivated to win more. I had collected a considerable number of Fitcoins that I used to get discount coupons at Zimmber and Doormint," he says.
Clients, competition Zimmber and Doormint aren't the only vendors on the Fitard platform. The Mumbai-based startup has tied up with more than 25 partners including FreshMenu, Holachef, Truweight, FiTicket, Doormint, Zimmber, Yumist and others. Each of them redeem the points or Fitcoins collected by users such as Khatik.
Partnering with the app has helped LiveYourSport.com, an e-commerce portal for sports equipment, do targeted marketing. "We cater to a similar customer base of people who care about fitness, so there is a better chance of acquiring a customer through Fitard than, say, Facebook," says Punith Kumar, founder, LiveYourSport.com, who has been associated with Fitard since the latter's inception in October 2015.
Currently, Fitard Technology Pvt. Ltd, which runs Fitard, has two revenue streams. First, it charges the reward partners for marketing and brand building/discovery services. Another revenue stream is the fees paid by doctors and nutritionists to access the data on a user's physical fitness, gym sessions and fitness challenges that he successfully clears.
Unicorn India Ventures co-founder and managing partner Anil Joshi says the revenue model "seems good for the time-being". He, however, cautions that the revenue is dependent on the brands and "if they withdraw, it would impact Fitard". "It is too early to comment on revenue model; hence, one needs to wait and watch and make necessary corrections with time," he says. The app is available on Android, and the iOS version is slated to be launched soon. At present, the startup claims to have witnessed more than 3000 downloads and a daily active user base of 500. It claims that 40% of its users come back to take up more challenges.
The app is currently live in Mumbai, Pune, Gurgaon and Bangalore. Fitard plans to expand its operations to more cities in the next three months.
The Fitard concept is similar to Earthmiles, which also links fitness tracking apps on the mobile phone with challenges. Closer home, the startup competes with FeetApart, an app-based social network that helps organisations enhance the fitness level of its employees by suggesting activities, goals and challenges to users.
Funds, founders The startup is currently in bootstrapped mode, but is looking to raise funds to enter new cities. Unicorn's Joshi believes investors would be happy to explore Fitard, provided it is "able to demonstrate traction and a sustainable revenue model".
Bora, who has worked as a senior software developer at food-tech startup TinyOwl, had earlier co-founded an online classifieds startup called Trustydeal, which was closed down due to lack of funds. Goyal is an IIT Roorkee graduate who has earlier worked with grocery delivery app MovinCart, Suez Environment India and BHEL.
---