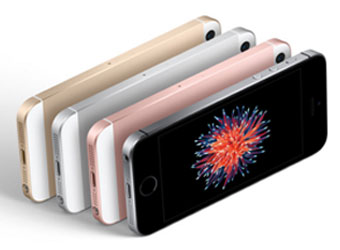 Apple Inc has reported a jump in sales of its iPhone devices in India, one of the few shining regions for the tech giant as demand for its flagship smartphones slows in its major markets.
The company said global iPhone sales for the quarter through March fell 16% to 51.2 million units from 61.2 million a year earlier. Sales in India surged 56%, it said, without specifying the number of units sold.
Quarterly revenue dropped 13% to $50.6 billion while net income slumped almost 23% to $10.5 billion.
Apple CEO Tim Cook said the company is placing higher emphasis on emerging markets such as India where it expects "disproportionate growth" versus the more developed areas.
While the tech giant is deepening its focus on India, it trails South Korean electronics giant Samsung, China's Lenovo and local handset makers such as Micromax in the country's booming smartphone market. Apple has also sought government permission to open retail stores in India, the world's third-largest smartphone market after China and the US, to boost sales.
Cook said Apple had been working in India "with great energy" over the past 18 months and pointed out the challenges that were holding the company back.
He said that the rollout of Long-Term Evolution technology in India began only this year. "That will unleash the power and capability of the iPhone in a way that an older network, a 2.5G or even some 3G networks, would not do," he said.
Besides, the India market is different from the US, where telecom carriers sell a vast majority of phones. "And so it's out in retail, and retail is many, many different small shops," he said.
Cook also said that most smartphones in India are low end, primarily because of the network and the economics, and that the market potential has not been as great there. "But I view India as where China was maybe seven to ten years ago from that point of view, and I think there's a really great opportunity there," he added.
---