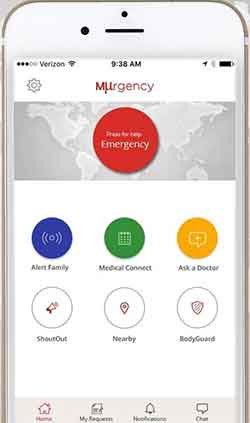 MUrgency Inc., which runs an emergency response mobile app, has raised an undisclosed amount of funding from early-stage venture fund Axilor Ventures.
The funds will be used to develop the brand, recruit talent, augment technology and scale operations, it said in a statement
The US-based startup was founded by Harvard University graduate Shaffi Mather in 2014. Mather had previously founded Ziqitsa Healthcare Ltd.
The startup, which kicked off its India operations in the three adjacent cities of Chandigarh, Mohali and Panchkula in February, has developed a responder network of 36 hospital emergency rooms, over 40 ambulances and more than 350 medical professionals. It claims to have an average response time of under 9.20 minutes.
"We will cover Punjab fully before 30 June, 2016 and be pan-India by 2018," said Sweta Mangal, director, global emergency response, MUrgency Inc.
MUrgency was developed with membership in BCtA @ UNDP (Business Call to Action at the United Nations Development Programme) and in academic partnership with Stanford ChangeLabs, Harvard Asia Center and MIT Global Health.
"The emergency medical response system in India and the developing world is highly fragmented. MUrgency can help improve access and bring in much needed transformation in our emergency response delivery system," said S.D. Shibulal, co-founder, Axilor, and one of the founders of Infosys.
Axilor Ventures was founded by Shibulal along with Infosys co-founder Kris Gopalakrishnan, former Infosys board member Srinath Batni, former Infosys head of strategy Ganapathy Venugopal and Harvard Business School professor Tarun Khanna in October 2014.
Axilor incubates startups operating in the e-commerce, healthcare, life sciences, sustainability and clean technology spaces.
In October last year, Axilor invested in Gurgaon-based Easyfix Handy Solutions Pvt Ltd, which operates an online aggregation platform for home maintenance and repair services under EasyFix.
More recently, food-tech startup Petoo has raised an undisclosed amount of funding from Shibulal and Gopalakrishnan besides three more angel investors through Axilor Ventures this month.
In an earlier interaction with VCCircle, Venugopal said that the firm intends to invest in 12-15 early-stage ventures in the next financial year.
---