Doctor consultation startup DocsApp raises $1.2M from Rebright, others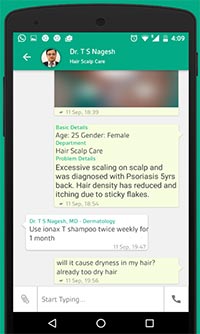 Doctor consultation app DocsApp has secured seed investment of $1.2 million (Rs 8 crore) from investors led by Japanese venture capital firm Rebright Partners.
Early Facebook investors Anand Rajaraman and Venky Harinarayan also invested in this round, DocsApp said in a statement.
The startup will use the funds to expand its operations, recruit talent and develop technology.

The app, run by Phasorz Technologies Pvt. Ltd., was founded in 2015 by IIT Madras alumni Satish Kannan and Enbasekar Dinadayalane.
The app lets patients chat with doctors and share pictures and reports of the ailment with them privately. It claims to have around 500 doctors and about 80,000 users on board. The app also supports medicine delivery in seven cities—Mumbai, Delhi, Bangalore, Chennai, Hyderabad, Kolkata and Pune.
Kannan, who is also the CEO of the company, said that an estimated 70% of common health issues people face can be managed online and patients don't need to travel to have a medical consultation. "We want to bridge the gap between patients and doctors through this platform so that people can get expert consultation on demand," he said.

DocsApp joins several other startups in the online consultation segment to receive funding. In January, JustDoc, a healthcare startup that facilitates online video consultation with doctors, raised seed funding from former Infosys director TV Mohandas Pai, InMobi co-founder Mohit Saxena and other investors. In December last year, Doctor Insta Pvt Ltd raised pre-Series A funding of $500,000.
Other players in the online healthcare sector include Mumbai-based mHealth Ventures India Pvt Ltd, which runs a virtual consultation platform called MeraDoctor; HealthEnablr India Pvt Ltd, iClinic Healthcare Pvt Ltd, Welcome Cure Pvt Ltd and mHealth Ventures India Pvt Ltd.
---