Nearly 1,000 Indian startups to get funded in 2016: VCCEdge

Close to a thousand Indian startups are likely to get funded in 2016, replicating and possibly surpassing last year's record show, according to the Startup India report by VCCEdge, the data research platform of VCCircle.
The report, which was released at the Techcircle Startup event at Bengaluru on Thursday, forecast the startup funding activity based on the deals run rate in the first three months of 2016 and the historical contribution from the first quarter to the yearly deal volume.
There have already been 255 deals till mid-April this year, the report said. It counted startup funding as those straddling early-to-mid stage venture transactions and included angel, seed, Series A and B venture funding rounds.

The report, however, paints the two shades of the emerging trend (more on that here).
VC firms active in the mid-to-late stage venture funding cycle have tightened their purse strings. This has also impacted the overall flow of VC money to Indian startups as the quantum of investments in these deals is much higher. But the surge in angel and seed-stage investments have kept the initial cheques coming for startups looking to raise money.
The number of angel and seed funding deals has risen by a third to 189 in Q1 CY2016 from 142 in Q1 CY2015. But Series A and Series B funding deals halved to 32 and 13, respectively, in the January-March quarter.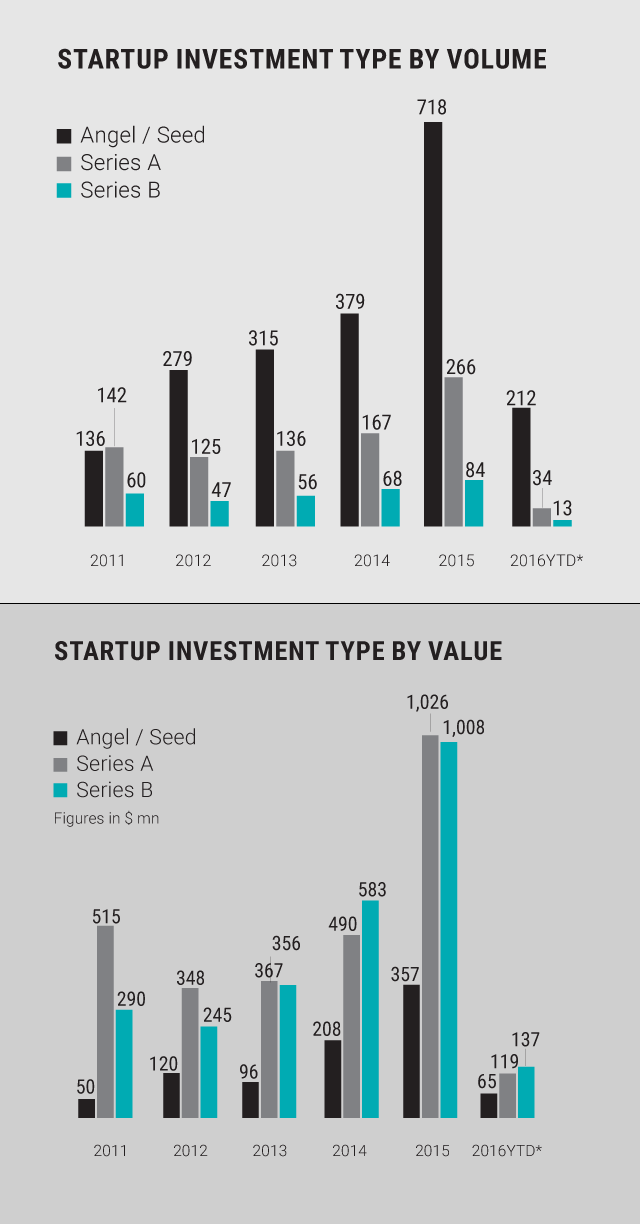 This means both good and bad news for startups. While the data show startups continue to get initial funding support, fewer of them would be able to attract heavier moneybags from VC investors.
More funds for startups but fewer deals The report reveals that there is no dearth of money. Six venture funds have already raised $1 billion in 2016 so far, which is about 40 per cent of the total early-stage fund raised in 2015. Of this, Sequoia Capital reportedly closed its $920 million fund, the biggest by any India-focused VC fund ever.

This implies that investors are flush with cash, or 'dry powder', but they are going to be choosy while deploying it.
Strategic buyers drive exits for startup investors While exits, or rather profitable exits, for venture investors from Indian startups have been sparse though improving, one clear trend has been the importance of strategic acquisitions.
A total of 22 exits took place in 2015, up from 19 the year before. The year 2016 has started on a positive note with seven exits so far, all via M&As.

The initial bout of such M&As were led by international firms such as Facebook (Little Eye Labs), Twitter (ZipDial) and Naspers (redBus). Now, large Indian internet and other tech firms such as Flipkart, Snapdeal and Freshdesk have become active with acquisitions or acqui-hires to fill critical gaps in business and operations.
To buy the full incisive Startup India report, please click here.
---