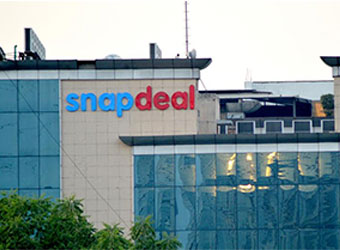 E-commerce marketplace Snapdeal, run by Gurgaon-based Jasper Infotech Pvt Ltd, has appointed former Zoomcar executive Mayank Jain as head of growth.
Jain will lead user growth strategy and focus on harnessing the value of analytics, it said in a statement.
"He brings on board a rich understanding of using analytics for growth," said Rohit Bansal, co-founder, Snapdeal. Snapdeal is looking to have 20 million daily transacting users on its platform by 2020.
An IIT-Delhi alumnus, Mayank Jain was leading the products and analytics, and digital marketing verticals at self-drive car rental startup Zoomcar, prior to his new assignment. Earlier, he had worked at Mu Sigma, Advanta Corp and Capital One.
Jain's appointment comes after a long lull in hiring at Snapdeal. This could be due to the changed dynamics in the startup ecosystem where the focus has now shifted towards cost cutting, unit economics and profitability. As a result, the rapid scaling and scramble for top talent now needs to be reconciled with the new realities.
In October 2015, Snapdeal had hired in Ashish Jain as senior vice president (SVP), investor relations and mergers and acquisitions (M&A) integrations. In the same month, Snapdeal appointed Anup Vikal as its chief financial officer. In July, it appointed Bharti Airtel's former chief marketing officer Govind Rajan as its new chief strategy officer. Later, he was also given the additional charge of COO of Freecharge.Snapdeal has made several senior hires in recent months, including at least two in the finance team. It hired former Procter & Gamble executive Amit Choudhary as its senior vice president of corporate finance in July. In June 2015, the company had roped in Anand Chandrasekaran from Bharti Airtel, who was appointed as chief product officer. It also brought in Jayant Sood from Bharti Airtel, who came in as chief customer experience officer. Earlier in April, it named former Unilever executive Vivek Patankar as senior vice president of finance. In April, Idi Srinivas Murthy was also brought in as senior vice-president for marketing.
Earlier, Snapdeal appointed Gaurav Gupta as VP of engineering, and Jeyandran Venugopal from Yahoo as technology officer.
---