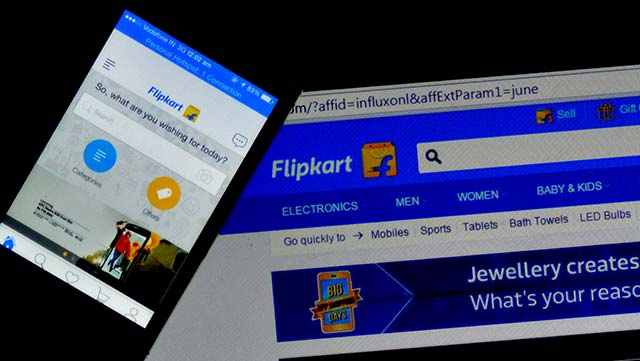 A growing number of Flipkart investors are realising that India's top e-commerce firm is overvalued, though there is no unanimity by how much.
American mutual funds Fidelity Rutland Square Trust II and Valic Co. have joined US asset management firm T. Rowe Price and Morgan Stanley in reducing the value of their investments in Flipkart.
According to filings with the Securities and Exchange Commission, the mutual fund managed by Fidelity Investments lowered the value of Flipkart shares it owns by almost 40% to $82 apiece as of 29 February 2016 from $135.8 in August last year. Valic marked down the value of its investment in Flipkart by 29% to $98.19 a share from $139 apiece.
This comes after a public market fund managed by T. Rowe Price slashed the holding value of its investment in Flipkart by 15.1% in its report for the quarter through March 2016.
Earlier, a Morgan Stanley fund had reduced the value of Flipkart shares by 27% The latest markdowns by Fidelity and Valic differ from that of T. Rowe Price and Morgan Stanley in one more way. The Fidelity and Valic funds noted the change in valuation from August last year to February this year. However, T. Rowe disclosed the change in valuation between January 1 and March 31 this year while the Morgan Stanley-managed fund marked down Flipkart's value between July and December 2015 (click here for a contrarian view on Morgan Stanley's disclosure).
None of the four firms have given a rationale for the valuation.
While Morgan Stanley's estimate meant Flipkart's valuation was around $11 billion at the end of December 2015, T. Rowe Price's disclosure means it is about $12.9 billion. Valic's markdown means it values Flipkart a tad less than Morgan Stanley, but Fidelity's drastic cut means it things the e-commerce company is valued less than $10 billion. That compares with the $15.2 billion valuation that Flipkart acknowledged in September last year based on in its last funding round in mid-2015.
The markdowns come at a time when Flipkart is reportedly trying to raise more funds amid an intense battle with SoftBank-backed Snapdeal and the local arm of Amazon.com Inc to maintain its supremacy in the Indian e-commerce market.
Fidelity and Valic first invested in Flipkart in 2013 during the company's Series D round. Valic invested again in March 2015. To be sure, the value of their investments has risen since they bought shares of Flipkart. They together own about $6 million of Flipkart shares. The total value of Fidelity's shares, for instance, has risen to about $4.3 million from $1.2 million since 2013.
T. Rowe Price initially invested in Flipkart in December 2014 as part of a private equity funding round where Flipkart raised $700 million from a host of investors including Steadview Capital and Qatar Investment Authority among others. It later invested more in March 2015.
Flipkart also counts Tiger Global Management, Naspers, Accel Partners, Iconiq Capital, GIC, DST Global and Sofina Societe, among others, as investors.
---