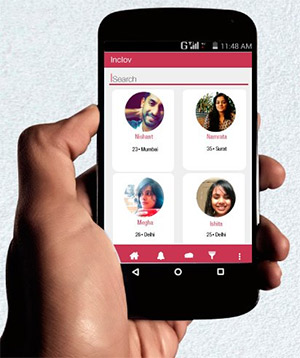 Movies, books, internet are all abuzz with dating tips, making it clear that finding your significant other is not an easy business. Throw in a disability, and dating becomes virtually impossible. Add to that the social realities of India, you can forget about ever finding that special someone.
However, 30-year-old Anu Multani refused to settle for a lonely life. Struck with polio at a young age, the gutsy girl from Junagadh refused to give up her dreams. She would find her Prince Charming. Browsing on the internet, she came across the Inclov app, made for "special people" like her, she says. Soon she was chatting with Imran Garana, a 32-year-old from Surat, who, too, was polio-stricken. Five months later, the two had tied the knot.
Anu and Imran's isn't the only happy story that Inclov has engineered. The app, has till date registered 400 matches. More than 3000 profiles are listed on the app, all of people who are differently-abled. Of the total number of registered users, 60% are active users.
"For the differently-abled, most aspects such as employment or travel are covered," says Shankar Srinivasan, co-founder, Inclov. "But no one was doing anything about their social/personal lives." And that got Srinivasan and Kalyani Khona to start Inclov Technologies Pvt. Ltd, which runs the app.
Khona is a graduate of HR College of Commerce and a recipient of the Rajeev Circle Fellowship, a fellowship launched by Silicon Valley venture capitalist Asha Jadeja Motwani to enable Indian entrepreneurs to connect with entrepreneurs, mentors and seed investors in Silicon Valley in the US. Srinivasan is a graduate of Jai Hind College and has previously worked with publishing company Pearson India.
The company had first started off as Wanted Umbrella, a match-making agency for the disabled, in January 2014. But after being flooded with applications, they realised that technology could help them expand the reach of the venture.
"There are nearly six hundred million single people who are disabled and looking for a partner. A pen and paper approach cannot handle the magnitude of this problem," says Khona, co-founder, Inclov.
That also got the duo to design the app in such a way that differently-abled people could actually use the app without having to ask anyone for help. For instance, Inclov has integrated the talkback feature for the visually-impaired, adding textual descriptions of images. It has special menus for those with upper mobility issues, AI and voice command powered solutions for those with cerebral palsy, and will also be introducing video calling feature in the future.
"Most dating/matrimonial websites only ask if the user is disabled or not. It's important to know the kind of disability they suffer from to assist them in finding the right match," says Srinivasan.
Realising that differently-abled people are more vulnerable, Inclov also ensures the safety of the users through background checks and disabling the screenshot feature. It also plans to add GPS tracking in the future.
The app is currently available on the Android platform; the iOS version is set to be launched soon. The company claims to have witnessed 45% month-on-month growth.
In August 2015, Inclov registered on Wishberry, a crowdfunding platform, to raise Rs 5 lakh, but ended up raising Rs 6.5 lakh. "Nearly 15% of those who participated in the fund raise had a disability themselves," adds Srinivasan.
The money was used to build the prototype of the app and test it with 50 people to ensure ease of operation by the differently-abled.
Inclov now plans to monetise the venture through a tier-based subscription model. Users would pay for premium features, while basic discovery would remain free.
"As cherry-picking business opportunities get their market leaders, entrepreneurs start focusing on niche opportunities. And if these niches are large and compelling, then they make valid businesses. That's what's happening here," says angel investor Ajeet Khurana. He also says the financial viability is not an issue." A significant portion of this segment is affluent enough to easily afford a fee. So if a sizeable section of the addressable market can be cornered rapidly, then I am optimistic about the business viability of this app," he says.
As of now, Inclov only serves customers in India, but it plans to go global in the next 18 months.
"It's an nice solution to an unique need and opportunity. They are serving an specific need and niche market which is quite small is size," says Anil Joshi, founder, Unicorn India Ventures. According to him, Inclov could attract the attention of an impact investor. "There are investors who would like to invest in this space," he says.
Like this report? Sign up for our daily newsletter to get our top reports.
---