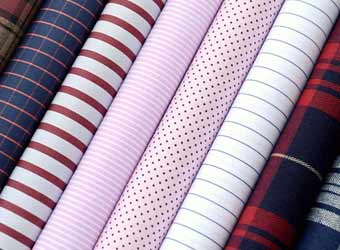 Bombay Shirt Company has secured a bridge round of funding from Patni Group, while the family offices of Alibaba Group chairman Jack Ma and executive vice chairman Joseph Tsai may invest in Indian startups. Here's a quick round up of the startup and technology stories of the day.
Bombay Shirt Company raises bridge funding from Patni Group In a bridge round of funding, online custom-made shirt retailer Bombay Shirt Company has raised Rs 6.6 crore (around $980,000) from its existing investor Patni Group and an undisclosed investor, The Economic Times has reported. The Mumbai-based company will use the funds to expand to Bangalore, Delhi, Kolkata and Chennai, and to hire tech specialists. The company also appointed its new vice president of finance and business development, Ankit Vora, formerly of US-based Parallel49 Equity.
Family offices of Jack Ma and Joseph Tsai may invest in India The family offices of Alibaba Group's chairman Jack Ma and executive vice chairman Joseph Tsai are seeking to make investments in India, according to a report in The Economic Times. While these Chinese firms are yet to make any definitive investments, they are in talks with Indian startups, it said quoting two people familiar with the development. The family offices of Ma and Tsai are expected to make small-ticket investments and would not lead funding rounds as they would not be looking to play a central role in the running of a startup.
Jeff Bezos lobbies PM to allow online marketplaces to have inventories too Amazon Inc CEO Jeff Bezos has lobbied Prime Minister Narendra Modi to let foreign investor-backed e-commerce companies operate a mixed marketplace model, according to The Economic Times.
A mixed marketplace model is part marketplace and part inventory-led. Bezos had made the request during a meeting he had with Modi in Washington DC during the Prime Minister's trip to the US last week, according to a person privy to the development, it said. According to guidelines issued by the government in March, e-commerce companies with foreign direct investment can only function as marketplaces that connect third-party vendors to buyers, and are not allowed to keep inventories.
Meanwhile, the e-commerce giant's business-to-business (B2B) arm, AmazonBusiness, is planning to expand to new cities in India in the coming year, The Economic Times reported. AmazonBusiness has been moving very slowly in India due to the different tax structure prevailing in different states across the country. As of now, it has close to 10,000 sellers in Bangalore alone, and is also present in Mangalore.
Govt looking at policy changes to bring more startups under 'medium' category The government is considering tweaking its policies to ensure that more startups in the 'medium industry' category are able to benefit from central procurement rules, and thereby give a fillip to the Startup India Action Plan, according to The Economic Times. Under the public procurement policy, central government department and ministries and its central public sector enterprises (PSUs) have to procure at least 20% of their purchases from micro and small enterprises beginning April 1, 2015.
As per the Startup India Action Plan, a startup is defined as one with a turnover of more than Rs 25 crore and not older than five years from incorporation date. The department of industrial policy and promotion (DIPP) is talking to the department of expenditure and ministry of micro, small and medium enterprises (MSME) for a solution so that the benefits announced in the Startup India action plan can be extended to such medium sized startups as well, it said quoting unnamed government officials.
Practo to take its services to 65 more cities in India in 2016 Online healthcare platform Practo plans to expand its footprint to 100 cities in India from the current 35, while it makes further inroads into its existing international markets, including South East Asia, Latin America, the Middle East and eastern Europe during 2016, according to a report in The Economic Times. Practo founder and CEO Shashank ND said it would expand its international operations by covering more cities as well as bringing more products to Singapore, Indonesia and the Philippines.
Like this report? Sign up for our daily newsletter to get our top reports.
---