Chinese cab-hailing firm Didi Chuxing, the main local competitor for Uber Technologies Ltd in China, has just raised an incredible $7.3 billion in fresh financing. The latest round brings DidiChuxing's war chest to about $10.5 billion, against the $11.5 billion on Uber's balance sheet.
Questions have been asked about why Didi Chuxing needs this kind of money as it operates only in its home market where it claims to have 87% market share. The most apparent answer is that Didi Chuxing plans to takes it fight against Uber to other countries around the globe. Believing in the maxim, "The enemy of my enemy is my friend", last year it had inked a deal with Uber's arch rivals – Ola in India, Lyft in US and GrabTaxi in SouthEast Asia (all four share common backers, most notably SoftBank) to offer their users a seamless experience across international borders. Didi Chuxing is also one of the investors in ANI Technologies Pvt. Ltd, which runs Ola.
Didi Chuxing's rivalry with Uber in China is very similar to that of Ola's fight against Uber in India. Both Didi Chuxing and Ola operate in their respective home countries while Uber offers its services in 71 countries and 438 cities. Till now, both Didi and Ola have managed to keep their respective leads over Uber. But there the similarities end.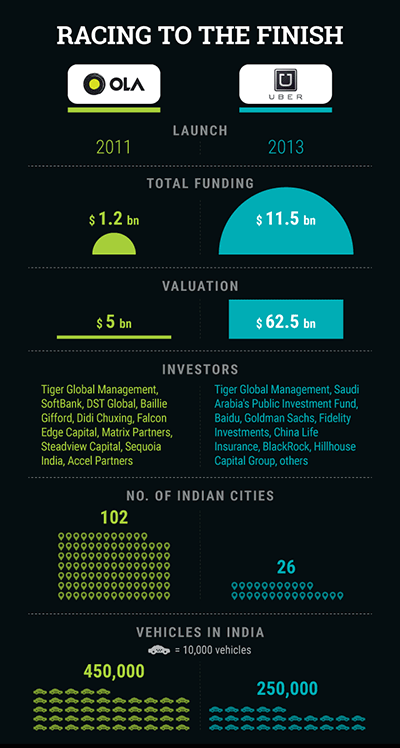 While the gap between Didi Chuxing and Uber's market share seems to be unbreachable by the day, Uber is closing in on Ola. Ola, which offers its services in 102 cities in India, claims to have about 70% share. On the other hand, Uber, present only in 26 cities, claims it has 50% share.
Management consulting firm PricewaterhouseCoopers estimates India's cab-hailing market at $12-15 billion. The opportunity, therefore, is huge.
"There has been no monopoly in the taxi aggregator market. Uber offers tough competition to the Indian players as it is a multinational as well as more professional in its approach," Vishal Tripathi, analyst, research and advisory firm Gartner told Techcircle. "If Indian companies (like Ola) have to compete against Uber, they will have to provide services at par to get repeat business, generate the advertising money, and moreover, be profitable." According to him, more people will attach their cars with the service provider who offers better service to customers and drivers alike. And every car on the road counts.
In terms of total fundraise and valuation Ola is tiny in front of Uber. Till now, the Bangalore-based startup has raised about $1.2 billion. Its last fundraise was in November 2015 when it raised $500 million from Baillie Gifford, Didi Chuxing and existing investors Falcon Edge Capital, Tiger Global, SoftBank Group and DST Global. But it seems essential for Ola to keep raising huge amounts of cash to fund its operations, considering the financial might of its opponent. Ola, which has a valuation of about $5 billion against Uber's valuation of $62.5 billion, is reportedly in talks to raise $300-400 million in fresh funds from both existing and new investors, including Didi Chuxing and SoftBank.
On the other hand, Travis Kalanick-led Uber, which raised $3.5 billion from Saudi Arabia's sovereign wealth fund earlier this month, is reported to be seeking a $2 billion leveraged loan. And, a major part of those funds are expected to be directed to Uber's India operations as the US-based company seems to have given up on China.
Ola's 30-year-old founder Bhavish Aggarwal, however, seems unfazed. "Money is not the thing that wins the market. It is experience," Aggarwal had said in a recent interview to Bloomberg. "We understand the Indian context so much better. Uber conquered a market where people had cars in their garages. In India, we didn't have garages, we didn't have cars, we didn't even have roads."
Putting up a brave front is essential when you are fighting an opponent as strong as Uber. At the same time, Ola needs to take some lessons from its Chinese alliance partner and investor on how to fend off competitors on its home turf. Here are a few things Ola can learn from Didi Chuxing:
Acquiring a competitor makes sense, but retaining talent is more sensible: When Tencent-backed Didi Dache and Alibaba-backed Kuaidi Dache merged last year, Kuaidi CEO Dexter Chuanwei Lu became the Co-CEO of the combined entity. This ensured that a person with a lot of experience in the industry, who had withstood competition from Didi for so long and had good networks in the Chinese tech industry, was on the team which was now fighting the behemoth that is Uber. However, the case wasn't the same with Ola, which bought arch homegrown rival TaxiForSure for $200 million but failed to retain the founders.
Don't get too involved in fundraising; appoint a dedicated professional: Most reports give a distinct impression that Ola's founders are closely involved in fundraising operations. This may not be as good as it seems. Didi's CEO Cheng hired Jean Liu, a 12-year veteran at Goldman Sachs Hong Kong, to be the president of the company, and her remarkable fundraising power is there for all to see. With Ola now looking to build a $300 million war chest, such a move might be helpful.
Collaborate with services such as Hike, JioChat and similar apps: Didi gets a significant percentage of its bookings directly from WeChat messaging app. Reports suggest that it facilitated about 21 million rides from the WeChat app itself. Adopting a similar strategy is certainly an option that Ola needs to consider. It also helps that Hike is a part of the Bharti Airtel ecosystem and JioChat is a part of the Reliance Jio ecosystem. If Ola plays this right, it may bring in additional benefits such as cheaper Wi-Fi in cabs.
Don't discount public outrage over surge: Although surge pricing is an extremely efficient way to serve customers, the resultant public outrage and backlash from local authorities may not be worth it. Didi, on the other hand, is using artificial intelligence based technologies to predict demand and reduce the impact of surge. For this purpose, Didi has set up a machine learning research institute 'Didi Research' and hired He Xiaofei, ex-president at Yahoo! Research Labs to lead the institute. Ola needs to see how its demand forecasting technologies can be upgraded.
Be smart when dealing with regulators: Regulators in India and China are generally too risk-averse to create environments conducive for disruptive ideas. Didi identified a city with the least risk-averse regulatory environment in China – Shanghai -- and started operating there legally. Currently, Indian states are free to form their own regulations on taxi aggregators. Ola should look at adopting a similar strategy and identify the least risk-averse states and convince regulators of the need to allow such services. Other states will most probably follow as the benefits become apparent.
Gartner's Tripathi says even investors are becoming more demanding. Ola will, therefore, have to find a way to ensure better returns. "Only way these players can make money are when they get repetitive business and for that they have to give excellent service," he adds. Ola needs to heed that advice.
Like this report? Sign up for our daily newsletter to get our top reports.
---