Angel investors don't just reside in big cities. Investors from smaller cities such as Guwahati, Kanpur, Vadodara, Raipur, Visakhapatnam, Agra, Jaipur, Chandigarh are increasingly ready to bet on innovative business ideas, says a study by deal making platform LetsVenture. According to the study which looked at deals struck by investors and startups on its platform, 13% of the investors in 2015-16 were from tier 2 and 3 cities.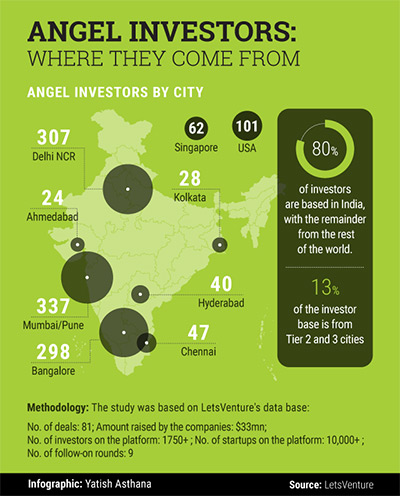 Among the metro cities, Mumbai-Pune region and NCR have reported the highest number of angel investors at 337 and 307 respectively. In comparison, Bangalore came third with 298 angel investors.
It was a similar story when it came to the home base of startups. While Bangalore was leading with the number of startups in 2015, Delhi-NCR has moved to the top spot in 2016. Tier 2 cities saw an increase in the number of startups setting up base in these towns across India, with Pune recording the highest.
The study also looked at sectors that were most preferred by startups. E-commerce followed by healthcare, marketplace and data analytics were the most active sectors. Furthermore, seed funding in the first and second quarters of 2016 have seen a rise in seed deals versus those made in the same year-ago period. The year 2016 also saw a higher number of business-to-business (B2B) startups set up shop, as compared to 2015, when business-to-commerce (B2C) firms dominated.
Like this report? Sign up for our daily newsletter to get our top reports.
---