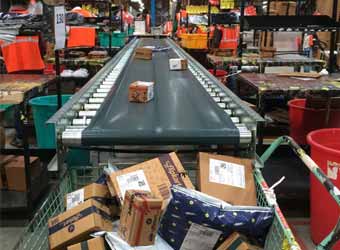 The simmering discontent among its vendors seems to be compounding woes for Flipkart, which has, of late, been in the news for all the wrong reasons. Upset with the e-commerce company over the way it has unilaterally altered its commission system and is allegedly penalizing sellers for the return of products by customers, a section of vendors is up in arms against it while independent observers feel the sellers may not be wrong in feeling cheated.
Last week, revolting against Flipkart's fresh commission policy, several members of two unions of sellers - eSeller Suraksha and All India Online Vendors Association (AIOVA) - declared a strike against Flipkart wherein they chose to display their products as 'out of stock' on its marketplace. The two unions claim to have close to 1,000 members each. According to them, around one million stock keeping units (SKUs) were displayed as out-of-stock during the strike.
The bone of contention between Flipkart and its sellers is the new commission policy introduced by the ecommerce company. The spokespersons of both the unions alleged that Flipkart follows a complicated commission system divided into three components – commission, fixed fee and collection charges. While commission is the fee Flipkart charges vendors each time their products gets sold on its marketplace, fixed fee is what it charges for facilitating transactions between vendors and customers and collection charges are payment gateway or cash collection fees for every sale.
According to sellers, including the spokespersons for both the unions, Flipkart has increased the commission on several categories while reducing minimally on a few and it has hiked fixed fee across categories in addition to raising collection charges. For instance, it has reduced its commission on fashion garments marginally from from 18% to 17.5%, but has increased the fixed fee to Rs 30 from Rs 10 while the collection charges remain at 0.25% but with a minimum limit of Rs 20. In effect, sellers, now, have to cough out more because of the fixed component going up.
Refuting allegations of high-handedness, Flipkart said the revised structure across shipping, commission and returns is in line with the standard industry practices. "Yes, there has been a change in our commission rates across categories. However, close to 60% of our categories still have lower commissions compared with competitors. Some categories remain untouched while in a few categories, we have reduced the commission," said a Flipkart spokesperson.
Sellers are also peeved because in a fresh move, the company has passed on the financial burden on account of products returns to sellers. Flipkart, according to the two unions, has said that sellers will have to pay for the to and fro shipping and collection charges in case of products returned by customers. "Returns are killing both Flipkart and sellers. Consumers are taking advantage of the return policy. We urged Flipkart to start discouraging customers from frequently returning products. Amazon allows sellers to charge users for returns," the AIOVA spokesperson said.
In order to check the rise in the number of product returns from customers, Flipkart, earlier this month, narrowed the return window from 30 days to 10 days but according to sellers, the 10-day window is not universally applicable across all product categories and most lifestyle products and large appliances can still be returned by customers 30-days after the delivery. A high number of returns, they say, add to their costs and push their losses.
"With the increase in returns, we are forced to hike the prices of products by at least 20%. When the prices go up, the sales come down," an eSeller Suraksha member said.
The Flipkart spokesperson, however, said that the recent tweak in the company's policies has been aimed at ensuring that only quality products are sold on its platform while also discouraging customers to return products. "Most of the returns happen because of quality issues. Our main agenda is to encourage quality sellers on our platform. These policy changes are part of our efforts to reduce returns"
The spokesperson also said that the company's decision to charge sellers for return shipping was meant to help in maintaining a healthy marketplace environment. "The revised customer return timeline (from 30 to 10 days) is aimed at ensuring a more seamless experience for both sellers and customers to ensure timely replacement of products where necessary," said the spokesperson, adding that "We have a system to track both sellers and customers. While we take action against sellers who trade low-quality or fake products, we also track and blacklist consumers who engage in constant cancellations or return activities."
Sellers allege that the company has been taking unilateral decisions and is reluctant to listen to them. "We have tried to approach Flipkart for many months to bring certain pain points to their notice, but they are not ready to listen to us," the AIOVA spokesperson said.
Flipkart, on its part, asserts it is doing everything to help sellers' transition to the new arrangement in an easy manner. The company spokesperson even said that many sellers working with Flipkart feel the new return policy will help them to have a competitive edge over others who do not quality seriously.
Meanwhile, industry observers feel that sellers' interests need to be taken care of and they shouldn't be penalized for mistakes that are not of their making. "In their hunger to expand the market, Indian marketplaces were offering a lot of benefits to customers. The policies (to appease customers) were made by marketplaces and not by sellers. Therefore, until the marketplace puts a discipline in place, you cannot penalize the sellers," said Arvind Singhal, chairman, Technopak Advisors.
Arguing that sellers should be held accountable for lapses at their ends but not for customer behavior, Singhal further said: "While Flipkart's losses could be funded by investors, sellers' loses are not funded by anyone. They have to make a profit if they have to be in the business."
Like this report? Sign up for our daily newsletter to get our top reports.
---