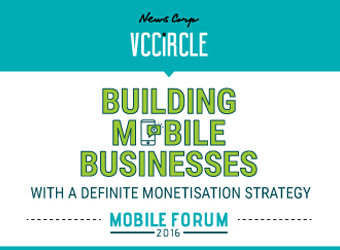 The 5th edition of News Corp VCCircle Mobile Forum to be held on June 30, 2016 at The Westin, Gurgaon is set to explore the various mobile monetisation strategies and their impact on the rapidly expanding mobile ecosystem. With mobile fast becoming the go to platform for business transactions, creating and nurturing a large consumer base, along with a well-laid-out monetisation strategy, holds the key to running successful and sustainable mobile businesses.
The forum will provide an attractive setting to deliberate on a range of innovations and monetisation strategies.
Here is the final agenda and speakers for the forum.
8:00AM-9:30AM
Registration and Refreshments
9:30AM-9:45AM
Welcome Address by Nita Kapoor, Head, India - New Ventures, News Corp (VCCircle)
9:45AM-10:45AM
Panel 1: Future of Mobile
Mobile ads, branded & video content, Free Basics, BOTS, Gamifications, enterprise mobility are few trends which are going to change the future of mobile. Will the monetization models also change? What will the current call and data revenues evolve into? How will mobile change the definition of money? How will companies include offline models to tap into larger markets?
R Chandrashekhar - President, NASSCOM
Dilip Asbe ‎- Chief Operating Officer, National Payments Corporation of India
Sri Rajan - Chairman, Bain & Company India Pvt. Ltd.
Sanjeev Aggarwal - Senior Managing Director, Helion Advisors Private Limited
Srivatsa Krishna - Secretary to Government of Karnataka, Chairman KUIDFC (Moderator)
10:45AM-10:55AM
Room-wide discussion
10:55AM-11:10AM
Networking break
11:10AM-11:55AM
Panel 2: Trends shaping up the Mobile ads business
Globally, mobile ad spends are expected to touch US$100 billion in 2016 and capture 51 per cent of the digital market. India can have a big share of this revenue stream. Some of the trends to look out for are native advertising, in-store beacons, use of wearables, interactive ads, mobile coupons and Artificial Intelligence. Another important area which can have an impact on the mobile ad business are emergence of ad blocker software being developed by leading device makers. Considering so many innovations and challenges posed by ad blocking applications, what is the future of mobile ads?
Tushar Vyas - Chief Strategy Officer, ‎GroupM Media India Pvt Ltd
Virginia Sharma - Director, Marketing Solutions, India, LinkedIn
Martin Nygate- Founder & CEO, nanu
Deven Dharamdasani - Co-founder, Seventynine (SVG Media Pvt. Ltd.)
Mohit Bhatnagar - Managing Director, Sequoia Capital India (Moderator)
11:55AM -12:40PM
Panel 3: Monetizing Mobile: what clicks?
From branded content, innovative apps to gamification, what is the best strategy to monetize mobile? What are some of the set factors to decide the best strategy and also what does the future look like?
Vasuta Agarwal – VP & GM - India, InMobi
Vikas Agarwal - General Manager, India, OnePlus
Sunil Kulkarni – Dy Managing Director, Oxigen Services (India) Pvt. Ltd.
Arun Gupta - Co-founder, MagicTel Solutions
Aakrit Vaish - Co-founder & CEO, Haptik
Gautam Sinha - CEO, Times Internet (Moderator)
12:40PM-1:00PM
Special Address: Rural Market: A golden opportunity for the mobile businesses
Pradeep Lokhande, CEO, Rural Relations
1:00PM-2:00PM
Networking Lunch
2:00PM-2:30PM
Special Address: Content is King: A case study on Hotstar's unique consumer and monetization model
Ajit Mohan, CEO, Hotstar
2:30PM-3:15PM
Panel 4: Investor Perspective: The future of mobile-led investments
With a range of options to choose from, how does an investor zero on one? What are the deciding factors and checklist that startups need to keep in mind. Going forward, what do investors feel about funding the mobile economy of India?
Sandeep Sinha - Co-founder and Managing Partner, Lumis Partners
Deepak Gaur - Managing Director, SAIF Partners
Sunil K Goyal - Founder & CEO, YourNest Angel Fund
Deepit Purkayastha - Co-founder & Chief Strategy Officer, Inshorts
Rishi Batra - Co-founder, COO and CFO, Fashalot
Nilesh Kothari - ‎Co-Founder and Managing Partner, Trifecta Capital (Moderator)
3:15PM-3:35PM
Special Address: China's Mobile Economy: What can India Inc. learn?
Jessica Wong - Partner of Cyber Carrier & Vice President of Investment, Yeahmobi
3:35PM -3:50PM
Networking Break
3:50PM-4:35PM
Panel 5: The future of Video Streaming
A big chunk of mobile monetization will come through video streaming, content and advertising. Companies like Meerkat, periscope, Jigsee, Voot, Snapchat and Facebook have already integrated video streaming within their strategic models. However, one of the biggest debates which stays around mobile video is if it should be free and customer engaging or should paywalls be set before hand? Also, with offline campaigns already making a breakthrough, what are some of the trends to look out for?
Subrat Kar - Co-founder & CEO, Vidooly
Vishal Maheshwari - Country Manager, Vuclip India
Anirudh Damani - Managing Partner, Artha India Ventures
Akash Banerji - Head of Marketing & Partnerships, Viacom 18 Digital Ventures
Kabir Narang - Partner, Eight Road Ventures (formerly Fidelity Growth Partners) (Moderator)
4:35PM-5:20PM
Panel 6: Women & Mobile: Aligning consumer behaviour with monetization strategies
According to a recent study over 60 percent of women name their mobiles as the most important devices in their lives but almost 91 percent consider ads intrusive. Unlike men, women also like to shop in group, interact, consult, influence and then buy. Can tracking of these distinct factors make a successful business preposition through mobile? What defines the women consumer when it comes to mobile and how can these parameters be reaped to cultivate a healthy consumer base?
Sanna Vohra - Founder, The Wedding Brigade
Sachin Bhatia - ‎CEO & Co-founder, Truly Madly
Nidhi Agarwal - CEO, KAARYAH
Dr. Aparna Hegde - Founder, Chairperson and Managing trustee, Armman India
Suchita Salwan - Founder & CEO, Little Black Book
Karan Mohla - Executive Director, IDG Ventures India (Moderator)
5:20PM-5:50PM
Showcase: A distinctive showcase for startups to display their apps and ideas.
It is a curated platform for innovative mobile based startups and developers to make an elevator pitch to a select jury of angel investors, venture capitalists and fellow entrepreneurs. This is also a platform of choice for tech geeks, developers and early stage, pre-revenue startups for attracting investor attention and recognition.
To find out the best mobile monetisation strategy register now or write to Kanika at  register@vccircle.com.
Follow us at @vccircleevents, send in your ideas and suggestions to us; use our events hashtag #TCMobile.
Like this report? Sign up for our daily newsletter to get our top reports.
---