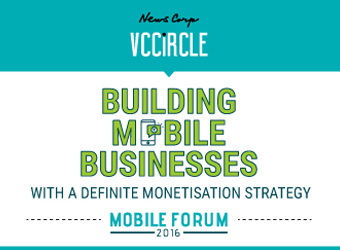 Advertising spends on mobile phones are expected to touch $100 billion globally in 2016 and account for 51% of the total digital ad market but a majority of this is likely to go to large multinational players such as Google and Facebook. Even as that is a matter of concern for local ad-tech startups, a more serious issue is devising a workable model of mobile advertising that is less intrusive and more purposeful and effective for brands.
This was the conclusion reached at the panel discussion on 'Trends shaping up the mobile ads business' held at the fifth edition of News Corp VCCircle Mobile Forum in Gurgaon on June 30. The discussion was moderated by Mohit Bhatnagar, managing director, Sequoia Capital India and the panellists included Tushar Vyas, chief strategy officer, ‎GroupM Media; Virginia Sharma, director, marketing solutions, India, LinkedIn; Martin Nygate, founder & CEO, nanu, and Deven Dharamdasani, co-founder, Seventynine.
Beginning the discussion, Bhatnagar said mobile advertising had not really taken off among startups in India. To this, Nygate added that a good business model around mobile advertising had yet to emerge.
"Fundamentally, all forms of mobile advertising -- be it freemium, pop-ups, etc -- is broken. These formats of advertising are detrimental for brand value and brand equity." He said pop-up advertising was intrusive, which is probably why an increasing number of customers was downloading ad blockers. "All in all, people don't like advertising on mobile," he said.
Panellists agreed that mobile advertising had yet to see the emergence of a format that was less bothersome for customers. Adding to the thread, Dharamdasani, which is now owned by one of the country's largest ad-tech companies SVG Media, warned startups seeking success in the business to avoid becoming arbitrage players. "Think about a product, then about the idea, and then anything else," he said.
Linkedin's Sharma, too, said that "get-rich-quick attitude is never going to make any entrepreneur successful" and hence, instead of taking easy routes, they needed to first decide the purpose of their enterprise. Giving an example of her own organization, she said that revenues at Linkedin didn't grow in tandem with the growth in the number of its members because it is a "member-first company and it makes money to pay engineers to make free product better."
Sharma said the next frontier of digital advertising is "personalization and taking user engagement to the next level".
Nygate, however, countered Sharma's argument saying startups with no revenues or revenue potential to show were not able to attract investors anymore. "Three years ago, when as an entrepreneur we used to have discussions with investors, their focus was on growth, but today things have changed and it's all about revenues," he said, adding that investors, now, only look at business models. Nygate advised startups to figure out the monetization model first and not focus on growth in user base alone.
Vyas of GroupM, on the other hand, asked startups to explore the communication and creative aspect of mobile advertising. "There are two aspects to mobile advertising – distribution and messaging. Currently, huge amount of focus is on distribution and mostly all companies like Google, Facebook and ad-tech firms are focusing on distribution part more but not enough focus has gone into the messaging part. Startups should look at the communication aspects," he said.
Like this report? Sign up for our daily newsletter to get our top reports.
---