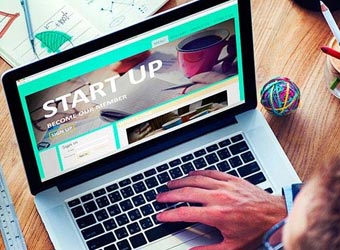 Aimed at creating a robust software products industry in India, the National Democratic Alliance (NDA) government plans to offer fiscal incentives for start-ups in this space.
The strategy is aimed at enabling the environment for creating 10,000 technology start-ups to develop globally competitive software products and generate direct and indirect employment for 3.5 million people. InfraCircle has reviewed a draft of the National policy on software products–2016.
One of the prominent electoral planks of the NDA government was job creation which led to initiatives such as Make in India and Skill India aimed at creating employment opportunities.
The government aims software products to account for $100 billion of India's gross domestic product (GDP) by 2025 from the current level of around $6.1 billion. Of these, exports account for around $2 billion. The country's information technology industry, valued at around $143 billion, is expected to grow to $350 billion by 2025, according to the draft policy being prepared by the ministry of communications and information technology.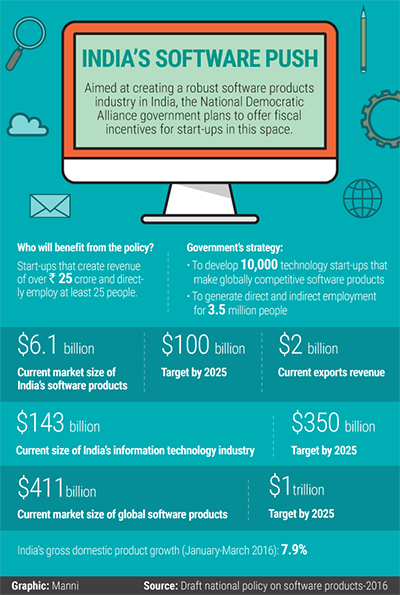 India's GDP expanded 7.9% in the January-March quarter, accelerating from a revised 7.2% in the previous three months. The country's GDP growth is projected between 7% and 7.75% by the Economic Survey for the current financial year.
The strategy in the works by the ministry of communications and information technology aims at a ten-fold increase in India's share of the global software product market by 2025. This is to be done by promoting easy access for software product and creating a specialised talent pool of 100,000 professionals by 2025.
The global software products industry is estimated to be worth around $411 billion and expected to reach around $1 trillion by 2025.
"The plan is to make inroads into the global market," said a senior government official requesting anonymity.
The policy to be announced shortly plans to offer incentives to start-ups which create revenues of over Rs25 crore and directly employ 25 people. The ministry held a meeting on the plan also aimed at encouraging research and development (R&D), and innovation.
Experts believe a policy can only create an enabling environment but the development of products has to be looked holistically.
"There are many challenges in this space. Even the whole education system is geared up to find jobs rather than create opportunities for entrepreneurship. There has to be a review of the ecosystem around the software products space to address the challenges. An enabling infrastructure also needs to be created to compete in the global market," said Hemant Joshi, partner, Deloitte Haskins & Sells.
The ministry will also allocate a fixed portion of funds in electronic development fund created by department of electronics and information technology and innovation fund created by the ministry of finance exclusively for domestic software product industry promoted by resident Indian nationals.
"The aim is to create a robust software product industry, which enables the ground for large number of software product start-ups, promotes development of an ecosystem encouraging R&D and innovation, and opens up window to access capital," added the official.
The policy will also look to address bottlenecks in availability of funds and investments in start-ups dealing with software products.
An inter-ministerial coordination group will be set up to leverage StartUp India initiative to ensure ease of business and to address concerns specific to software product industry.
Queries emailed to the spokesperson of the ministry of communications and information technology on 1 July remained unanswered.
The government also plans to create enough 'absorptive capacity' in the domestic market and develop linkages with other sectors such as services, core and social infrastructure. The policy will also seek to enable an easy employee stock option regime for software product companies.
Like this report? Sign up for our daily newsletter to get our top reports.
---