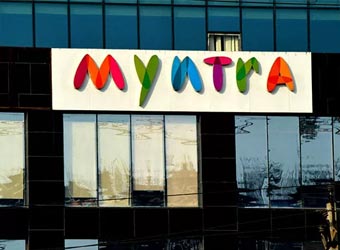 Rocket Internet-controlled fashion e-commerce venture Jabong, which has been on the block for over a year now, was bigger as a 'marketplace' compared with Flipkart-owned Myntra in the year ended 31 March 2015 even as the latter burnt more money.
Regulatory filings show that Myntra's revenue rose 70% to Rs 746 crore but its expenses climbed at twice that speed during FY15 due to employee compensation and an increase in inventory. Myntra's wage bill grew five times to Rs 210 crore and was bigger than what it spent on advertisements. Staff expenses surged due to a 30-fold jump in stock-based compensation.
Meanwhile, Jabong as a marketplace doubled its revenue to Rs 1,083 crore but bled far less in the same period.
To be fair, the financials of Xerion Retail Pvt. Ltd, which runs Jabong.com, and Myntra Designs Pvt. Ltd, which operates Myntra.com, are not strictly comparable.
This is because a comparison of the bottom line of the marketplaces of Jabong and Myntra needs to incorporate the losses of their associated vendors.
Jabong's key expenses, including its advertising bill, are borne by its main vendor Jade eServices Pvt. Ltd. On the other hand, Myntra's key vendor, Vector E-Commerce Pvt. Ltd, churned out a nominal profit (more on that later).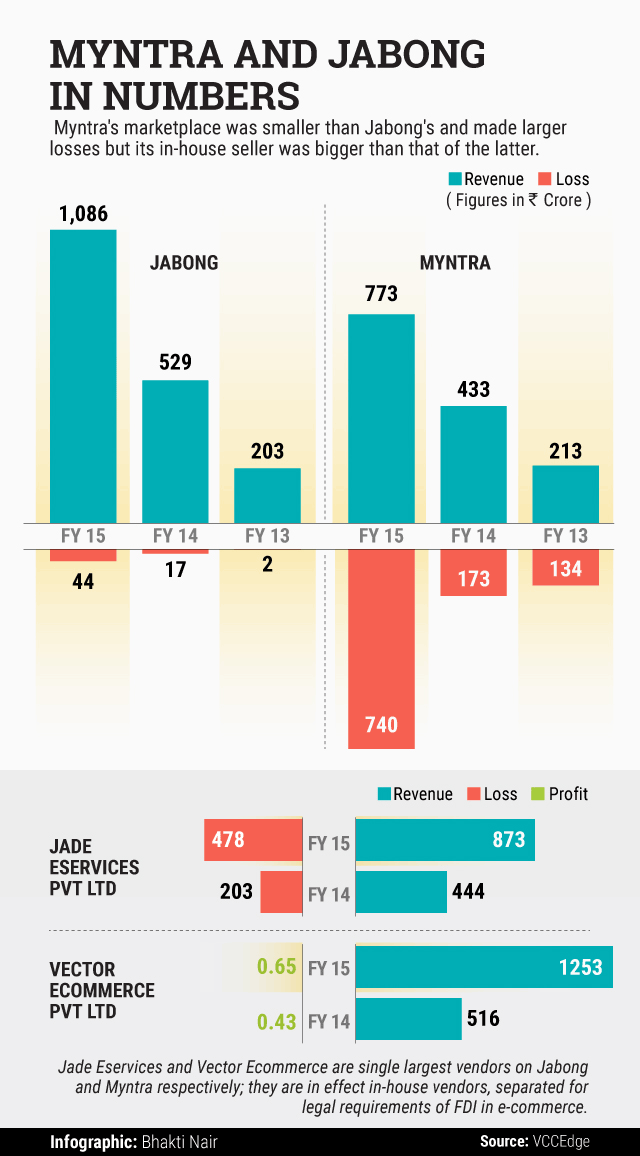 Myntra and Jabong did not respond to emails seeking comment.
Battle of the vendors While as a marketplace Jabong is bigger than Myntra, the latter seems to be far bigger when it comes to selling products from its in-house vendor. Both the firms have separated what would be their internal vendor to comply with foreign investment norms in e-commerce.
While FDI in marketplaces--which essentially provide a platform for others to sell on the internet or app--is allowed, there are strong restrictions on foreign-funded e-tailers. To get around the norms, most e-commerce firms in India have created two-tier legal structures separating ownership of the front-end marketplace with the seller or vendor.
From that perspective, Myntra's vendor Vector E-Commerce was 50% bigger than Jade eServices in FY15. Jabong's key vendor Jade eServices was deep in loss while Vector E-Commerce clocked a nominal profit. As stated earlier, if the losses of both entities for the two ventures are combined, Jabong appears to have clocked a net loss of Rs 520 crore as against Rs 740 crore for Myntra.
The firms are yet to file the annual financials for the year ended 31 March 2016, which would be available later this year.
This shows that Myntra, thanks to backing from Flipkart, which acquired it two years ago, pumped up competition at a time when Rocket Internet started focusing on cutting losses.
Jabong's number of orders on its site remained flat in the quarter ended 30 September 2015 compared with a year earlier. Although it grew the value of goods sold during the same period—reflecting a rise in the basket size of products purchased by consumers—the near-static number of transactions showed how the firm is facing a challenge as it slowly pulled down discounts to trim losses.
In the next quarter too, Jabong faced severe growth pangs. Not surprisingly, Jabong's parent Global Fashion Group, raised fresh funding from its existing investors at a sharply lower valuation.
Global Fashion Group secured €300 million ($339 million or Rs 2,250 crore) from Rocket Internet and Swedish investment firm Kinnevik. The transaction valued the company at €1 billion, a drop of almost 68% from €3.1 billion in its previous funding round in July 2015.
Myntra, which hit a gross merchandise value (GMV) of Rs 2,569 crore in FY15, was aiming to reach GMV of Rs 6,436 crore by 2016, according to its balance sheet notes.
GMV captures the value of goods sold by an e-commerce venture before discounts.
On the flip side, the latest quarterly financials of Jabong show that its revenue for the first three months of this year grew 14% to €32.6 million (Rs 240 crore) and it posted a marginal gross profit of €200,00 (Rs 1.5 crore). The number of transactions on Jabong's site grew 20% to 2.6 million during the period.
But its valuation has seen a major knock-down. From an asking valuation of around $1.2 billion, when it was looking at a buyout by Amazon, its suitors are now talking to buy it for a fifth that figure. Talks with Amazon had failed over valuation mismatch.
Like this report? Sign up for our daily newsletter to get our top reports.
---