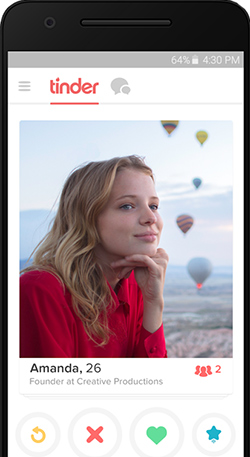 Dating app Tinder has launched a new feature that lets people meet up in groups. 'Tinder Social', as it is called, helps connect a small group of people with another set of peers for group dates, movie outing or a concert.
The new feature has been launched in the UK, the US, Canada, Australia and New Zealand, in addition to India.
To activate Tinder Social, users need to unlock the feature in the settings option after which the user will see Facebook friends who have also unlocked the feature.
Once the users join a group they can designate a status for the group after which they can start regular Tinder swiping activity. If two groups swipe each other, a chat box will open for users to continue with their plans.
The validity of the group is only till 12 pm the following day. Tinder, which has been downloaded over 100 million times, launched the beta version of feature in Australia in April. The feature wasn't well received as it created privacy issues among people since it revealed to the users who among their friends were using the app due to an automatic opt-in option.
However, this time around, Tinder has launched the social feature with some tweaks. Now, a user can see his friends only if both of them unlock the Tinder Social feature. While single users still won't mind planning for a group activity, Tinder's other audience would have reservations in using Tinder Social to connect with peer groups.
Sachin Bhatia, co-founder and CEO, TrulyMadly, said the concept creates privacy issues and Tinder Social is not the right use case for the Indian market.
"It has got a lot of flak globally. I don't think it has gone down well. You will see a lot of married men on Tinder and now it will become apparent to everyone. It is a bit of a privacy issue. I don't think there is a use case in India to form groups and go out. It may work in other parts of the world, but I don't think it will work in India. I don't think people will announce to the whole world that they are going out. If a group of girls announce that they are going out, they will get stalked," Bhatia told Techcircle.in.
Tinder Social can also be seen as the firm's attempt towards shedding its image of a hook-up to a more social app. "Our vision is to power your entire social life—we want to be the app you go to when you want to meet a new person or want to meet a new group of friends," Sean Rad, founder and CEO, Tinder, told Forbes.
The intention maybe right, but concept and the process seem tricky. It will be interesting to see if Tinder Social is able to replicate the success of the more private Tinder experience.
Like this report? Sign up for our daily newsletter to get our top reports.
---