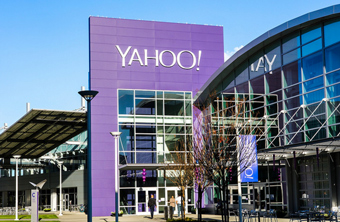 Yahoo! Inc. has agreed to sell its core operations to US telecom giant Verizon Communications Inc. for $4.83 billion in a transaction that marks the end of the Internet pioneer as an independent company after a two-decade-long journey.
Verizon's purchase of Yahoo, which follows its acquisition of AOL in May 2015, provides more evidence that it sees online content and advertising as a primary way to boost growth. Yahoo will join Verizon's other digital properties such as AOL, Huffington Post and TechCrunch, and will help create a new rival in the mobile media technology space that will compete against the likes of Google and Facebook—by far the dominant Internet giants. Yahoo will be integrated with AOL under Marni Walden, executive vice president and president of the product innovation and new businesses at Verizon.
"The acquisition of Yahoo will put Verizon in a highly competitive position as a top global mobile media company, and help accelerate our revenue stream in digital advertising," Verizon chairman and CEO Lowell McAdam said in a statement.
The sale does not include Yahoo's cash, its shares in Chinese e-commerce titan Alibaba Group Holdings, its shares in Yahoo Japan and certain other assets. The cash transaction, which is subject to customary closing adjustments, is expected to close in the first quarter of 2017.
"Yahoo is a company that has changed the world, and will continue to do so through this combination with Verizon and AOL," Yahoo CEO Marissa Mayer said. "The sale of our operating business, which effectively separates our Asian asset equity stakes, is an important step in our plan to unlock shareholder value for Yahoo."
Ironically, former Google Inc. executive Mayer was brought in as the CEO of Yahoo in 2012 to turnaround the company.
Started in 1994 by Stanford University graduate students Jerry Yang and David Filo, Yahoo in its early years was the destination of choice for many making their first forays onto the World Wide Web. By 2008, however, the company was fighting for its survival as new companies such as Google started dominating the Internet. The same year Microsoft Corp. made a $44.6 billion takeover bid for Yahoo but was rebuffed by Yang, who was then CEO.
Yahoo now has a market value of almost $38 billion but that mostly reflects its 35.5% stake in Yahoo Japan and a 15% interest in Alibaba Group.
AOL and Yahoo combined will have more than 25 brands in the portfolio. Yahoo's key assets include premium content brands in finance, news and sports categories, as well as an email service with about 225 million monthly active users. Additional technology assets in the advertising space include Brightroll, a programmatic demand-side platform; Flurry, an independent mobile apps analytics service; and Gemini, a native and search advertising solution.
What analysts say
"A combined Verizon/Yahoo makes a lot of sense," according to Shar VanBoskirk, vice president and principal analyst at Forrester. "Verizon wants Yahoo to fill out its omnichannel content and advertising play."
She added that Yahoo is most valuable in parts. "Frankly, the parts that are the most valuable are its data assets, not its existing content. For all the wobbliness of Yahoo's brand identity, the Yahoo brand still holds a lot of consumer-affinity."
VanBoskirk said the more access to customer data Verizon has—online through Yahoo and AOL, in home via cable boxes, on mobile via smart devices—the more targeted it can be with advertising and sponsored content or product placements across those devices. "This allows Verizon to create better ad products which is competitive against primarily online giants such as Google, and creates a better user experience which is competitive against other cable and telecom providers."
Greyhound Research CEO Sanchit Vir Gogia said that, through this acquisition, Verizon is trying to go beyond devices and data and targeting content and advertising revenue. The merged entity will better compete with Google, Facebook and Microsoft, he said.
"Facebook has content, advertising, and free data (experimenting with drones). Google also has content, advertising, and free data (Google Fiber). Microsoft recently bought LinkedIn for content, advertising and Internet data," Gogia said. "Now the fight is between Google, Facebook, Microsoft and increasingly Verizon."
India angle
The acquisition won't have much impact on Yahoo's India business, Gogia said.
He said that Verizon has no presence of devices and data in India. Unless Verizon develops AOL or any other content ecosystem in India, it won't be able to fight Google and Facebook. Google and Facebook have a mature content and advertising business and Yahoo doesn't even stand a chance in India.
"Yahoo India's presence is more from R&D perspective. If not change, it's going to improve because in India Verizon will have to put more people to increase the work on advertising and analytics," Gogia said. "In the long term, Yahoo and AOL put together will need more muscle in terms of people to drive more content and ad revenues to rival Google and Facebook."
Like this report? Sign up for our daily newsletter to get our top reports.
---