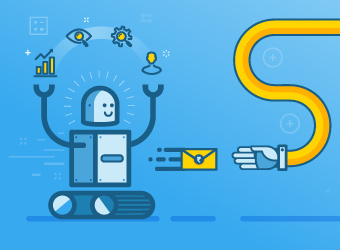 Morgan Stanley, one of the largest asset managers in the US, calls them a major threat to financial advisers. Vanguard and Fidelity, the two largest mutual fund companies in the US, have over the past year started offering services to counter them.
Now, India is getting a taste of them.
Who are they? Fintech startups that offer automated investment advisory services.
A bunch of them have started operations in India and have even raised venture funding over the past year or so. Startups such as Scripbox, Tauro, Wealthy.in and Goalwise use the power of artificial intelligence and algorithms to advise retail investors--who usually rely on friends, family members or stock brokers--to put money in shares and mutual funds.
Will they succeed? It maybe too early to predict the fate of these startups, but there is no denying that automated investment advisory services, or robo-advisory, are here to stay.
The trend has already caught up in the US where robo-advisers such as Betterment LLC and Wealthfront Inc. have attracted millions of dollars in funding and are managing an ever-growing pool of assets. In India, however, the segment is in a nascent phase.
"This space is highly underserved in India," says Anil Joshi, managing partner at Mumbai-based early-stage venture capital firm Unicorn India Ventures. Joshi, who hasn't yet invested in any robo-advisory firm, says that algorithm-based investment advisory services are evolving and that it would open up more investment opportunities in the segment.
The potential
The segment is growing as more people start looking for financial investment products to broaden their portfolio beyond traditional products such as gold and real estate. And growing use of smartphones and the Internet is making it easier to invest in financial products.
Digital capabilities are becoming more important as millennials are more digital savvy than previous generations, Morgan Stanley analyst Michael Cyprys said in a July report. This is transforming the investment management landscape, and the rising threat from robo-advisers is leading to a change in the role of financial advisers, the report said.
The Indian entrepreneurs behind these robo-advisory startups are confident about the market potential, though they are also aware there is a long way to go.
Sanjiv Singhal, CEO of Scripbox.com India Pvt. Ltd, admits robo-advisory in India is in its infancy because the ground realities are different from the developed markets, which offer a wider range of investment choices. The scope in India is limited also because only 3% to 4% of the earning population invests in financial products, he says.
"Robo-advisory services have definitely addressed the problem of consistent and quality advice," says Singhal. "Human beings, when faced with a lot of complex data, are not the best decision makers. Humans can only handle a finite number."
Scripbox is an online investment platform that recommends its users to invest in equity, debt and tax-saving mutual funds. It raised about $2.5 million (Rs 16 crore) in its Series A funding last year from Accel Partners and others, and secured an undisclosed amount from Omidyar Network recently.
Harsh Vardhan Singh, CEO of Tauro Investment Advisors Pvt. Ltd, which offers equity investment options through algorithmically-created baskets, says passive wealth management has evolved over the years in the developed markets and is gaining traction in India.
"In an active management scenario, not only do the fund managers take around 2-3% of every investment but also can neither predict the performance of funds nor guarantee returns," he says. "An algorithm takes into account the history and all the changes surrounding that and gives an equally good, if not better, advice, at the fraction of the same cost."
Betterment LLC and Wealthfront Inc. are among the robo-advisers in the US that have attracted millions of dollars in funding.
Tauro
raised
seed funding from Tracxn Labs and some angel investors in February.
A passive investment strategy refers to tracking a market or an index with the help of computer programs and trying to match the returns that reflect the overall trend. In active management, professional fund managers will do research about companies where they want to invest, meet with them and then analyse and assess their prospects before making a decision to invest. Actively managed funds aim to beat the benchmarks, and so are costlier than passive advisers.
Robo-advisers, like their human counterparts, take a percentage of the investment as their fee but charge much less. While investment managers charge 3-4% as their fee, the robo-advisory firms in India take 0.5-1.5%.
The limitations
Robo-advisory is not without its limitations. While it addresses the problems of consistent and quality advice, it cannot understand human emotions and fears, which are part of the investment process. Another challenge lies in gaining the trust of consumers.
Scripbox's Singhal says the startups are addressing these limitations. "Most fintech platforms are very transparent in their method of functioning. To create awareness, we give a lot of insightful content and actionable data," he says.
Angel investor Ajeet Khurana, who hasn't yet invested in any robo-advisory startup, says such platforms can cater to millions of small-ticket clients because of the algorithmic component and the marginal cost of servicing a customer is nearly zero. But this segment is gaining traction mostly in insurance and mutual fund investments. "This model is not evolved when it comes to stock market trading, except maybe in high-frequency or programmed trading," says Khurana.
So, will robo-advisers replace humans? It's unlikely anytime soon, though a change in the way traditional investment advisory firms function is more certain.
According to Tauro's Singh, investment and wealth management organisations could become leaner. Even the big players will have to eventually change their game, he says.
"While it could lead to a considerable reduction in the human element, there will always be a judicious combo of human and artificial intelligence," says Singh.
Scripbox's Singhal says this segment will see "dramatic growth" in terms of both the human and tech component. "But it can never completely replace the human element," he adds.
Like this report? Sign up for our daily newsletter to get our top reports
---