Flipkart to lay off underperforming employees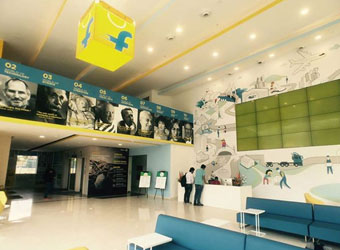 India's largest e-commerce player Flipkart is sacking at least 700 employees, or over 3 per cent of its workforce, as it looks to cut cost to compete with rivals like Amazon and Snapdeal.
Flipkart is asking "under-performing" employees to either resign or face the prospect of being sacked, sources said.
The number of employees who may be handed pink slips could run as high as 1,000, they said.

This is expected to "impact 1-2 per cent of the employee base" as the company wants to be a "lean organisation", they added.
Flipkart, which in recent times has faced lowering of valuation, has made several changes in its business model, including raising margins it charges from sellers.
When contacted, a Flipkart spokesperson confirmed that a section of employees were being put under performance review but refused to comment on the number of layoffs in the offing.

"At times, we have employees who do not meet the performance bar. In those situations, we work closely with employees to enable them improve their performance," the spokesperson said, adding that if employees are unable to make the desired progress, they are asked to "seek opportunities outside the company".
This, Flipkart said, is a fairly common practice across various industries, especially in high performing internet organisations.
The development comes as the Bengaluru-based firm is reportedly facing falling valuation after investment management firm, T Rowe Price shed the value of its holding in the company for the second time this month.

"As a performance oriented organisation, we have a transparent evaluation process in place. Employees are assessed in a fair, simple, transparent and development oriented manner. We use our review process to differentiate performance and maintain a high bar, which is reflected in our total rewards philosophy," the spokesperson said.
The spokesperson said top performers are rewarded highly and promoted to the next growth level and the "solid performers" are groomed for future roles through mentoring, coaching and on-the-job learning opportunities.
Flipkart also faced criticism earlier this year after it deferred the joining dates for campus recruits from the Indian Institutes of Management and IITs.

In February, Flipkart's rival, Snapdeal, had also placed about 200 of its employees on a 'performance improvement' notice under which they needed to improve within a month or get terminated.
The booming online commerce in India has created thousands of jobs across the country. While most of these companies continue to be driven by investor money, concerns around profitability are being raised and many of these firms are now looking at restructuring their business model to run leaner operations.
A host of Flipkart's investors have marked down their valuation estimates by up to 39 per cent in the recent past.

At its peak, Flipkart was valued at over USD 15 billion (roughly Rs 1,00,830 crore).
According to reports, T Rowe has further reduced the value of shares it owns in Flipkart by a further 20 per cent in the June quarter, valuing eCommerce company at USD 10.3 billion.
However, mutual fund investor Fidelity has marked-up valuation marginally by nearly 3 per cent to USD 84.29 per share, valuing the firm at around USD 9 billion.

Flipkart Chairman Sachin Bansal has said such cuts are their "opinions" and that it will not impact its fundraising plans.
Like this report? Sign up for our daily newsletter to get our top reports.
---