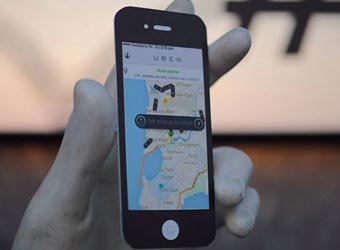 Uber Technologies Inc.'s decision to exit China after selling its local ride-hailing business to rival Didi Chuxing will make life easier for the two companies but it makes things a bit complicated for India's largest cab aggregator—Ola.
For, San Francisco-based Uber will now have greater room to invest in India where Ola is its main competitor. Besides, the deal with Didi Chuxing—which gives Uber a large minority stake in the Chinese company—will also give it an indirect stake in the Indian company. This is because Didi Chuxing had last year invested in Ola.
While it is too early to say how exactly India's cab-hailing market will evolve in coming months and years, one thing is certain—consolidation cannot be ruled out.
So, would Uber sell its India business to Ola? It's possible, say industry observers. But it doesn't look probable.
"Didi has an investment in Ola and would want to project itself as a dominant player in Asia," said TV Mohandas Pai, an active angel investor and chairman of Manipal Global Education Services and Aarin Capital. "It is a possibility that Didi may want to raise its stake in Ola and make Uber do a Didi on Ola."
Pai said that it makes sense for Didi to expand to India, a large and growing cab-hailing market, and that it could think of expanding in India through Ola.
The other, and more likely option, for Uber would be to follow the lead of another US-based tech company—Amazon.com Inc. The e-commerce giant is rapidly expanding in India, almost entirely through organic means, and has committed a large amount of investment to take on local rivals such as Flipkart.
Mahesh Murthy, founder of Pinstorm and co-founder of Seedfund, differs with Pai. Murthy said Didi Chuxing had the backing of China's protectionist laws but Ola does not enjoy the same advantage. This makes it easier for Uber to counter Ola.
"In India, the government does not stack the playing field in favour of local companies. So I believe Uber will go it alone in India and eventually win here. Even if Ola joins hands with someone, like say Meru, they still won't be able to resist the Uber juggernaut here," he said.
Ola didn't respond to emails seeking comment for this article. But Siddhartha Pahwa, CEO of radio taxi operator Meru Cabs, told TechCircle cab aggregators do not have any differentiation in business model and the likelihood of consolidation was high. "A similar arrangement can also happen in India between the aggregators and that will lead to a clear monopoly," he said. He didn't say if Meru could be involved in any consolidation move.
Pahwa added that once a monopoly or duopoly is established in India, the fare for taxi travel will rise. "The drivers who have invested their savings for buying cars will be left high and dry without earnings when incentives are withdrawn," he added.
What makes Ola's task more difficult is that it is far smaller than Uber in terms of funding raised and valuation. In comparison, the gap between the Uber and Didi Chuxing before their deal was much narrower.
Ola was valued at $5 billion when it last raised funding. That's less than a tenth of Uber's $68 billion valuation. The Indian company has raised around $1.1 billion from investors including Japan's SoftBank Group Corp and Tiger Global in the past two years.
Uber, on the other hand, raised $3.5 billion from Saudi Arabia's Public Investment Fund in June alone and now has a war chest of $11 billion. Didi Chuxing had a valuation of $28 billion before the deal with Uber and completed a $7.3 billion fundraising round in June.
Ola is also burning cash heavily. The company reported a far-wider net loss of Rs 754.8 crore for 2014-15 compared with Rs 34.2 crore the previous year.
To be sure, Uber is also losing money in India. But its bigger war chest and growing acceptance of the need to cut losses and become profitable—as the deal with Didi Chuxing proves—give it an upper hand.
Rehan Yar Khan, general partner at Orios Venture Partners and an early investor in Ola, said cab aggregators will sooner than later move toward profitability and control their cash burn. "What this merger (between UberChina and Didi Chuxing) will definitely do is put an end to the high cash burn game in India, which was led by Uber," he said.
Khan, however, expects Uber to reduce its budgetary allocation for India as investors in the US company clamour for profitability. "This would lead more to an innovation-led game, which is ideally how the competition should have evolved," he said.
Like this report? Sign up for our daily newsletter to get our top reports.
---