The merger of UberChina and Didi Chuxing is likely to lead to a tricky relationship among the two companies and Indian cab aggregator Ola.
This is because the transaction would give Uber Technologies Inc. a considerable 17.7% stake in Didi Chuxing, according to various media reports.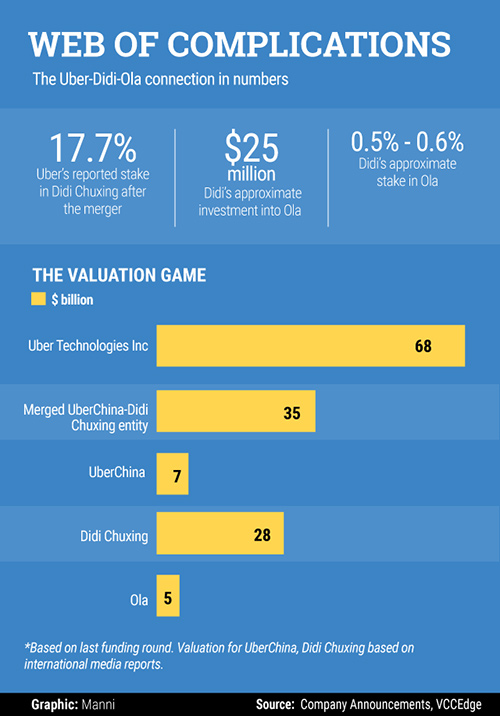 The complication is because the Chinese company last year invested in Ola, run by ANI Technologies Pvt. Ltd. The amount was never disclosed but it is estimated to be around $25 million, according to an analysis of Ola's filings made so far to the Registrar of Companies. This would give Didi Chuxing a tiny stake in Ola. And a stake in Didi would give Uber a stake in Ola.
Also, China Investment Corporation, the sovereign wealth fund responsible for managing part of the People's Republic of China's foreign exchange reserves, has invested in Didi Chuxing as well as Alibaba Group Holding Ltd, the Chinese e-commerce titan.
Alibaba has invested in Didi, which gives it a direct stake in the Chinese company and an indirect stake in Uber. Alibaba is also backed by Japan's SoftBank Group Corp, which is the largest shareholder in Ola.
Besides, Didi Chuxing and Ola are part of a global anti-Uber alliance that also included US-based Lyft and Grab Taxi in Southeast Asia. But after the merger deal in China, Ola and Uber may not technically be adversaries.
So, how do the dynamics of this relationship unfold now?
Didi, which until now shared Uber as a common competitor with Ola, now owns the US-based company's Chinese operations. So, this makes Ola and Uber indirect allies. It also gives Alibaba an indirect stake in both Uber and Ola. Sounds confusing, isn't it? It definitely is.
Like this report? Sign up for our daily newsletter to get our top reports.
---