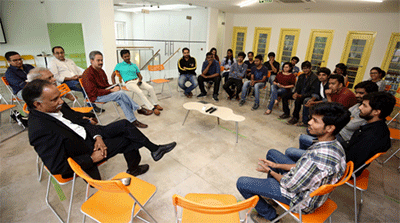 Infosys co-founders Kris Gopalakrishnan and SD Shibulal-led Axilor Ventures has invited applications for the fourth batch of its 100-day accelerator programme. Axilor Ventures, founded by Shibulal, Gopalakrishnan and former Infosys board member Srinath Batni, former Infosys head of strategy Ganapathy Venugopal and Harvard Business School professor Tarun Khanna in October 2014, has mentored 20 companies in the previous three batches and seed-funded seven of them.
"Globally, some of the most successful companies have been built coming out of downturns and it will be no different here. The market leaders of the next decade have just started out and we want to support them through the first 24 months of their journey," said Kris Gopalakrishnan, chairman, Axilor Ventures.
"Not every startup has to aim for unicorn status – building and running a sustainable, high-growth venture is a good outcome. Some of these foundations are laid in the early days of the startup journey ..," he said.
In the new batch, which will start in September third week, Axilor plans to admit 15 early stage ventures. Axilor Ventures makes seed investments in the range of Rs 25-50 lakh and pre-Series investment of Rs 1-3 crore in startups. Having invested in 12 companies so far, the firm looks to make 12-15 more deals this financial year. "We will continue to invest in technology startups that power e-commerce, enterprise and healthcare. However, we will also look at investing in capital efficient models in new sectors with exciting possibilities," Gopalakrishnan said.
"India would require a whole lot technology companies that would enable e-commerce. We like to bet on companies that focus on payment, discovery, recommendation, search and product categorisation," said Ganapathy Venugopal, CEO of Axilor Ventures. The select startups from the accelerator programme will get Rs 25 lakh funding through Axilor Scale-Up Programme.
Axilor has seedfunded startups including PaySay, Storewalk, PushChamp, Xobin, Suraider and PlaceofOrigin through the Scale-Up Programme and made pre-Series investment in startups including Sellerworx, EventsHigh, Petoo, EasyFix and mUrgency.
Like this report? Sign up for our daily newsletter to get our top reports.
---