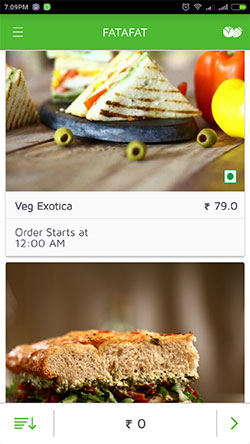 Chandigarh-based SoCoMo Technologies Pvt Ltd, which runs on-demand urban transport aggregator Jugnoo, has launched a ready-to-eat lunch delivery service, aimed at augmenting its recently launched hyper-local grocery delivery service Fatafat. In a week's time, it plans to launch services for evening snacks and dinner, as well.
In a statement, the company said that the new service, called 'Meals', will be part of the Fatafat mobile app. Users will be able to choose from a menu that includes sandwiches, meal combos and desserts, among others. There is no minimum order price and the menu will keep changing on a daily basis.
The launch of its newest service comes a little over two months after Jugnoo announced its entry into the hyperlocal grocery delivery vertical through Fatafat.
Nitish Singh, the CFO at Jugnoo, told Techcircle that the service was launched based on frequent interactions and feedback from customers.
Singh, who also heads the 'Fatafat' and 'Meals' verticals, said that the company has tied up with six food brands in Chandigarh and will take this number to 20 by the end of September. The company plans to launch this service in Jaipur or Indore by the end of this month and then, launch it in Delhi NCR subsequently.
"The intention is to focus on quality rather than quantity. We plan to keep the demand limited and get the food sold within a time span of just 15 minutes," said Singh.
The company will use its network of auto-rickshaws to deliver the orders. Currently, the service has been launched in Chandigarh, Panchkula and Mohal. For the service, the orders are taken between 12 am and 12 pm. Customers have the option of choosing between two delivery slots – from 12:30 pm to 1:30 pm and then, from 1:30 pm to 2:30 pm.
"The idea is optimum utilisation of the available resources. With every new service that we have launched till date, we have ensured that our drivers have a lucrative role to play in it," said Singh.
Founded in November 2014 by IIT Delhi alumni Samar Singla and Chinmay Aggarwal, Jugnoo so far focused on four segments—auto booking services, taxi aggregation, online ordering and home delivery of meals and groceries.
In June this year, Jugnoo ventured into the B2B logistics services with Dodo Deliveries.
Taxi aggregation was added in July last year when Jugnoo acquired BookMyCab in a cash-and-stock deal.
In April this year, the Chandigarh-based startup said it had raised an additional $10 million (Rs 66.5 crore) in an extended Series B round of investment. Much of the investment came from existing investors led by the parent of Paytm.
The startup had raised $5 million in May 2015 in Series A funding from Snow Leopard Technology Ventures, Paytm and other investors. Before that, it raised $1 million from Rakesh Mathur, co-founder of Junglee, which was acquired and re-launched by Amazon; Vikas Taneja, partner and managing director of BCG Group; Kirloskar Brothers and others in a seed round in early 2015.
Like this report? Sign up for our daily newsletter to get our top reports.
---