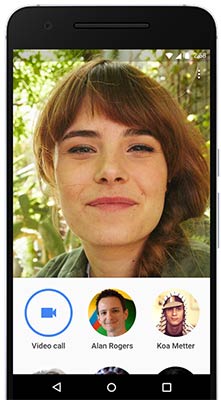 Tech giant Google Inc. has launched Duo, a one-on-one video calling app targeted at the smartphone users.
The app, which has been launched for both Android and iOS users, allows users to sign up using their phone number. Users can then connect with those in their phone's contacts list.
"We have built Duo to be fast and reliable so that video calls connect quickly and work well even on slower networks. Call quality adjusts to changing network conditions to keep you connected—when bandwidth is limited, Duo will gracefully reduce the resolution to keep the call going smoothly," Google said in a blog post.
The company said Duo switches between Wi-Fi and cellular data automatically without dropping call. It has also added a new feature called 'Knock Knock' which allows users to see live video of the caller before they answer the call. Users also have an option to turn off the feature completely if they don't like. The firm said it has secured all Duo calls with end-to-end encryption.
In May, Google announced forthcoming launch of Duo and Allo, a messaging app powered by machine learning. However, Allo, is yet to be launched.
Google is also planning to shift the Hangouts service to the enterprise users while Duo and Allo will serve the consumers. "Because Hangouts is built on a Google account, [and] because it's deeply integrated with Google apps... it's seen much more success with enterprises," Nick Fox, Google's VP of communication products, told Engadget.
Duo will compete with Apple's FaceTime, Skype and Facebook Messenger.
Like this report? Sign up for our daily newsletter to get our top reports.
---