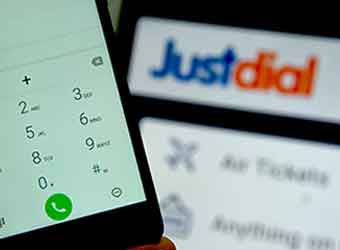 Online search engine company Just Dial Ltd on Wednesday reported an 8% rise in net profit for the fiscal first quarter, helped by a jump in other income.
Net profit for the quarter ended on 30 June 2016 increased to Rs 38.93 crore from Rs 36.05 crore a year earlier, the company said in its earnings statement.
The higher profit comes after the company posted a 25% decline in earnings for the quarter through March.
Net profit for the April-June quarter was boosted by higher other income, which doubled to Rs 28.66 crore from Rs 13.65 crore. Tax expenses fell to Rs 10.03 crore from Rs 16.07 crore.
Revenue grew 6% to Rs 176.29 crore while total expenses surged 22% to Rs 155 crore.
Higher profit, however, failed to enthuse investors as the company's shares slipped 2% on the BSE in afternoon trade.
Just Dial CEO VSS Mani said the company has initiated steps that will yield results over the next few quarters. "We are confident that with these measures we will get back into a sustainable growth trajectory, in line with what we have witnessed historically," he said.
The company, which has about 11,932 employees, said listings on its platform grew 8% from a year earlier to about 16.6 million while paid campaigns for advertisers rose 12% to 3,89,400.
Like this report? Sign up for our daily newsletter to get our top reports.
---