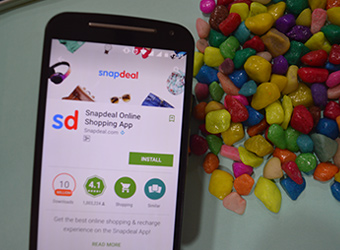 India's e-commerce industry could see a major shake-up if online retailer Snapdeal's preliminary conversations with local rival Flipkart and US-based Amazon to explore a possible merger make any headway. But a Flipkart-Snapdeal merger is a more likely scenario than a deal between Snapdeal and Amazon, say analysts.
A deal with Snapdeal would offer Flipkart a natural strategic advantage and help widen the gap with Amazon, which is applying all its might to claim leadership position in India with help from its $15.9 billion war chest. It would also help Flipkart to stave off the imminent entry of Chinese rival Alibaba to the Indian market.
Amazon, on the other hand, may not be interested in a deal with Snapdeal, says Ashish Jhalani, founder of e-commerce research firm Etailing India.
"Amazon traditionally does not operate that way. They would not look at a parallel competitor to merge or buy to expand market share. Look across geographies, they do acquire companies to build verticals but never to expand market share. I don't see a reason for them to change their strategy now," he said.
The comments come after VCCircle reported earlier in the day that Snapdeal, India's second-largest homegrown online retailer, had initiated preliminary talks with rivals Flipkart and Amazon to explore a possible merger.
Sanchit Vir Gogia, chief analyst at Greyhound Research, ruled out the possibility of Flipkart making a bet on Snapdeal. "Flipkart, too, will not find it attractive as Snapdeal does not have any USP," he added.
Gogia expects Alibaba to continue its financial assistance to its Indian interest in the ecommerce space. "It makes sense for Alibaba to make further investment in Snapdeal as they are trying to take on Amazon in India. However, it is a concern for Snapdeal that fundraising is getting delayed."
Jhalani, however, said there's a chance of Flipkart going for a deal with Snapdeal as it faces twin threats from Amazon and Alibaba in its home market. A Flipkart-Snapdeal merger would also require Amazon to spend more capital, resources and time to become the most dominant player in India's e-commerce market.
He also said all three companies work differently and it would be a tough task to find common ground. "Their technology, their relationships with sellers, everything is different. There would be a number of businesses that can be merged or hived off."
Jhalani added that Flipkart is not in a position to do an all-cash acquisition. "Even if they had the money, they wouldn't do it," he said. "Flipkart's investors would rather like the company to spend the capital on customer engagement, seller-based expansion, strengthening logistics, infrastructure and more."
Like this report? Sign up for our daily newsletter to get our top reports.
---