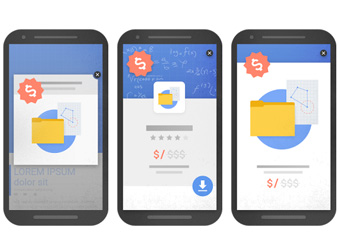 In order to weed out annoying ads on mobile and help users easily access content, search engine giant Google will rank interstitials and websites that use pop-ups lower.
"Pages that show intrusive interstitials provide a poorer experience to users than other pages where content is immediately accessible. This can be problematic on mobile devices where screens are often smaller," Google's product manager Doantam Phan said in a blog post.
Mobile sites that use interstitials—only the ones that make content less accessible to a user—will be under Google's radar. Such sites include those that are showing a popup that covers the main content, either immediately after users navigates to a page from the search results, or while they are looking through the page; displaying a standalone interstitial that the user has to dismiss before accessing the main content; and using a layout where the above-the-fold portion of the page appears similar to a standalone interstitial, but the original content has been in-lined underneath the fold.
While interstitials that appear to be in response to a legal obligation, such as for cookie usage or for age verification; login dialogs on sites where content is not publicly indexable; banners that use a reasonable amount of screen space and are easily dismissible would not be affected by Google's new policy.
The search engine giant is also dropping the 'mobile-friendly' label from all mobile friendly results.
Phan said, "85% of all pages in the mobile search results now meet this criteria and show the mobile-friendly label, thus the company has decided to declutter the search results by removing this label."
The label was launched two years ago to help users find pages where the text and content were readable without zooming and the tap targets were appropriately spaced. However, Google said it will continue to provide the mobile usability report in Search Console and the mobile-friendly test to help webmasters evaluate the effect of the mobile-friendly signal on their pages.
Like this report? Sign up for our daily newsletter to get our top reports.
---