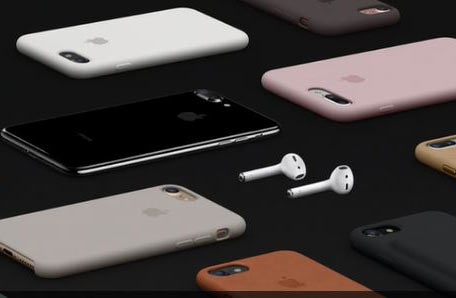 The Cupertino-based technology company Apple Inc. launched its next generation iPhones - iPhone 7 and iPhone 7 Plus - amid much fanfare in San Francisco yesterday. Apple CEO Tim Cook also unveiled the second version of Apple Watch at the much-awaited event.
The new iPhones have a new advanced camera system, longest battery life ever in an iPhone, wide colour system for camera to display, immersive stereo speakers, and are water and dust resistant. The phones will be available in more than 25 countries beginning September 16.
Indian customers, however, will have to wait longer, till October 7, to buy the latest Apple offering. In India, the base version of iPhone 7 may cost around Rs 43,150, if one goes by the straight dollar to rupee conversion. Given the past experience, though, the final price might be a little more when the phone is officially made available in the country.
The new version comes with iOS 10, the most advanced mobile operation system yet, which has an enhanced Messaging feature that offers more creative and animated ways to message.
The new launches come at a time when iPhone sales have declined for the first time in a quarter this year since the product was launched in 2007. The company's profits also dipped 27% last quarter.
Here is all you want to know about iPhone 7 and iPhone 7 Plus.
Power-packed cameras
1. iPhone 7 and iPhone 7 Plus have a 12-megapixel camera that includes optical image stabilization, a larger aperture and a six element lens that enables brighter, more detailed photos and videos, and a wide color capture that allows vibrant colors with more detail. iPhone 7 Plus has the same 12-megapixel wide angle camera as iPhone 7 along with a 12-megapixel telephoto camera that together offer optical zoom at two times and up to 10 times digital zoom for photos.
2. The dual 12-megapixel cameras also enable a new depth-of-field effect, using both cameras on iPhone 7 Plus to capture images, while sophisticated technology including Machine Learning separates the background from the foreground to achieve portraits that were earlier possible only with DSLR cameras, the company announced.
3. The cameras also have a new image signal processor, which processes over 100 billion operations on a single photo in as little as 25 milliseconds; a new 7-megapixel FaceTime HD camera with wide colour capture, advanced pixel technology and auto image stabilization for better selfies. It also has a new quad-LED True Tone flash that is 50% brighter than the previous generation iPhone 6s including an innovative sensor that detects the flickering in lights and compensates for it in videos and photos.
Longer battery life & enhanced performance
1. The new iPhones have the most powerful chip in a smartphone ever, the company claimed saying that the custom-designed Apple A10 Fusion chip has a new architecture that powers several innovations, alongside the longest battery life ever in an iPhone.
2. Graphics performance is also more powerful in the new version, running up to three times faster than iPhone 6 at as little as half the power, enabling a new level of gaming and professional apps.
3. Both phones include support for up to 25 LTE bands, for the best worldwide roaming in the industry, and LTE Advanced for three times faster data rates than iPhone 6 at up to 450 Mbps.
Music to the ears
1. New stereo speakers offer amazing and immersive sound that is two times louder than iPhone 6, offering increased dynamic range of sound and a higher quality speakerphone, said the company.
2. The new iPhone comes with EarPods with lightning connector to deliver rich sound, as well as a 3.5 mm headphone jack adapter that allows fans to use old headphones and accessories.
3. Apple's innovative new wireless headphones, AirPods, have extremely efficient wireless communication for a better connection, improved sound and industry-leading battery life. AirPods also allow customers to access Siri, the intelligent personal assistant, with just a double tap.
Good looks
1. The iPhone 7 and iPhone 7 Plus come in silver, gold and rose gold finishes. Apple has also introduced two all-new black finishes, one that has an anodized matte appearance, and another that has a deep, high-gloss look.
2. The entirely reengineered enclosure results in a water resistant iPhone that is protected against spills, splashes and dust.
Money matters
1. iPhone 7 and iPhone 7 Plus will be available in silver, gold, rose gold and the new black finish in 32GB, 128GB and 256GB models starting at $649, while the new jet black finish model will be exclusively available on apple.com, Apple Stores, Apple Authorized Resellers and select carriers.
2. The new AirPods, including the charging case, will be available for $159 from apple.com and Apple Stores beginning late October. All iPhone 7 and iPhone 7 Plus models will include EarPods with Lightning Connector and a Lightning to 3.5 mm Headphone Jack Adapter, also sold separately at apple.com and Apple Stores, for $29 and $9, respectively, the company said.
Like this report? Sign up for our daily newsletter to get our top reports.
---