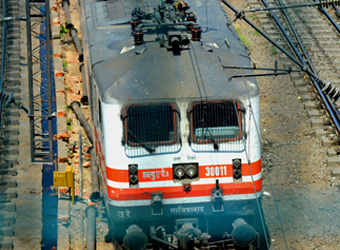 In an attempt to improve consumer experience and win back passenger traffic it has been losing, the Indian Railways plans to provide pre-loaded entertainment content through RailTel's optical fibre cable network across 400 stations and trains by the end of this financial year.
RailTel Corp. of India Ltd is a government firm which has exclusive rights to lay optical fibre cable network along railway rails.
The national carrier aims to provide pre-loaded content to passengers through Wi-Fi hotspots. Pre-loaded content would mean low telecom cost given buffering will not be required. The Indian Railways envisages a revenue of nearly Rs.100 crore per year under the plan.
"RailTel's optical fibre cable network is among the biggest and the most reliable network within the country. We aim to cover 400 stations under the station redevelopment plan initially," said a senior railway ministry official requesting anonymity.
According to the official, content providers will decide the tariff structure which the user could pay for online.
"We will leave the tariff structure to be charged from the customers to the service providers," said the official.
In addition, the transporter also aims to provide rail-radio services across 1,000 trains through creating a library of songs which could be accessed by passengers through Internet.
"Radio Mirchi has evinced interest in the plan; we aim to cover all trains under this. We expect a revenue of around Rs.400 crore for now. The plan is to finish this by the end of this financial year," added the official.
The private firm's interest in the plan stems from the footfalls the railways generate. According to ministry of railways, of 8,224 million passengers travelled in 2014-15. Also, the people's carrier has been trying to increase its non-fare revenue from the current 5% to 10-20%, as is a norm for many railway systems across the world.
The railways is also working to advertise on a high-tech centralised network of 100,000 screens across 2,175 stations by 31 March next year. In addition, it also aims to call for tenders on a zone-wise basis for outdoor advertisements across road-over-bridges, road-under-bridges and level crossings.
"It's not live content going out, you cannot play live content or regular content. Content playing at airports and stations is not live, it's all pre-loaded content with only limited bandwidth. If you download a movie of 1 GB (gigabyte), you'll have to pay from your own pocket," the official said. This is yet another attempt by the railways to improve consumer experience at a time when it has been pulled up by the Comptroller and Auditor General of India for providing inadequate amenities to passengers.
"At the moment, Zee Media Corp. Ltd along with other content providers have shown keen interest in this. We plan to monetise through pre-downloaded content," said another railway official also requesting anonymity.
Queries mailed to the spokespersons of Zee Media and Radio Mirchi on 9 September and the ministry of railways on 8 September remained unanswered.
A revenue of Rs.100 crore may not matter much for the Indian Railways, which has a capital expenditure outlay of Rs.1.21 trillion for financial year 2016-17, but enhanced customer experience does, according to experts.
"Train journeys do tend to be long and everybody has a smartphone now which can hook on to a Wi-Fi. The important part will be content and experience. Don't think from a revenue perspective. Once people have experienced something, then they tend to keep on increasing the usage," said Romal Shetty, partner at consultancy firm KPMG India.
Rail passenger earnings growth has been pegged at 12.4% and earnings target has accordingly been budgeted at Rs.51,012 crore for the current financial year.
Like this report? Sign up for our daily newsletter to get our top reports.
---