It is a city steeped in history and at the same time known as the centre of entrepreneurial revolution in contemporary India. It is city that is home to several leading homegrown IT companies such as Infosys, Wipro and Mphasis that brought India into global consciousness in the nineties. It is also the place of origin for several leading startups of current times such as Flipkart and Ola. It is also the city that houses offices of leading global giants that include Amazon, Facebook and Linked among others.
Any disruption in the day-to-day life in the city, therefore, is bound to impact business at a collective level. It is not surprising, therefore that the business community is at pains in the wake of violent protests and strike that engulfed the city this week.
In the middle of the flaming controversy lay a river, Cauvery, which originates from Kodagu in the southern state of Karnataka. The sharing of the river water with Tamil Nadu had always been a point of dispute between the two neighbours. This time, however, the dispute turned ugly taking Bengaluru, a generally quiet and apolitical city, into its fold. Offices and schools were shut. Those who couldn't afford to stop work, asked their employees to work from home.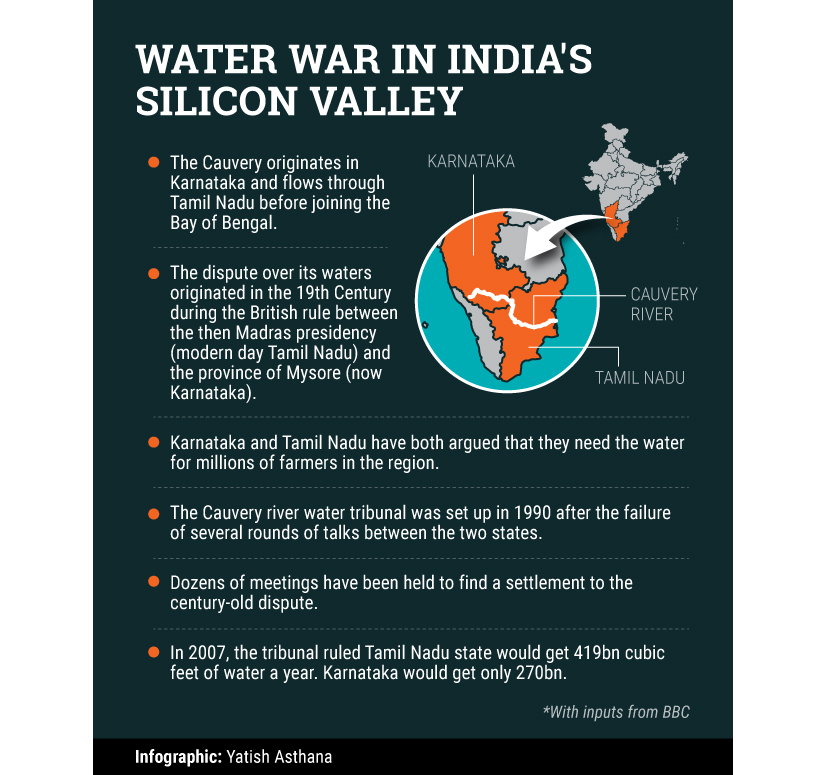 Industry body Assocham has estimated that the protests and strike have caused a damage of around Rs 25,000 crore to businesses across Karnataka, especially Bengaluru.
More than monetary loss, what happened in the city is likely to mar its image as a global enterprise hub, say entrepreneurs and professionals. "The entire scenario dents the image of Bangalore as an investment destination not only for startups but in general as well,"  says Darshan Subhash, co-founder and CEO, Cookaroo, a food delivery startup. "Specific to startups, more than capital, talent moving from other parts of the country to Bangalore will get affected. On the business front - service-based startups will suffer because of the decline in revenue in a situation like this whereas their fixed costs still remain the same," he adds.
Intangible loss is what the city is ruing the most. "Startups are all about momentum and any break in rhythm takes two to three days to get back on track," says Aditya Agarwal, founder of Wealthy, a wealth management startup. "Several of our team-members were affected personally from the bandh. Two of our team members slept in office for two continuous nights as there was no public transport available," he adds.
Incidentally, a lot many transport-centric startup experiments are underway in Bangalore and it was an irony that even they came to a stand still even as some of them tried to help hapless victims caught in the chaos in whatever small ways they could. "Bangaloreans already face lot of commuting woes and bringing transportation to a halt only made it worse," says Aravind Sanka, co-founder of bike taxi startup, Rapido. "Even though it's risky, we decided to stay operational to play our part to ease commute woes of normal Bangalorean. We used to close our shutters and work from inside. We had additional emergency teams on standby to ensure safety for the riders and customers."
Says Shishir Modi, co-Founder, Niki.ai, a chatbot- based app, "At the root level, distressed situations like bandhs certainly affect everyone and break the momentum and work culture of the city. That is a huge loss to startups, since we are always on our toes with targets defined. Startups should feel they will have that momentum in the city they start up at."
Several companies asked their employees to work from home and managed to minimize the damage.  "As a precautionary measure, we had asked our employees to work from home yesterday, we didn't see a big disruption as most of our functions are enabled to work from home and ensure business continuity from remote locations," says Karthik Sathuragiri, director, emerging business, Akamai Technologies. "But, this incident brought the business ecosystem to a standstill," he adds.
The biggest damage that the current chaos did to the city was denting its image as a place where businesses could flourish without getting caught in social or political unrest. "Bengaluru was so far considered as one of the peaceful cities in India and known for uncompromising work culture. The recent violence and city lockdown has definitely affected the 'Brand Bengaluru' and as the chaos in the city made international headlines," says Tinu Cherian Abraham, a Bangalore- based social media campaigner.
"Rule of law is an intangible factor in our ability to enable businesses to start-up, grow and flourish.  Investors and businesses look for a favourable environment and incidents like these cast a negative effect on the overall sentiments that have made "Brand Bengaluru" work," adds Sharanya G Ranga, partner, Advaya Legal, a law firm.
Despite the grimness of the situation, there are many who feel that the city will bounce back soon. "While lot of MNCs might consider shifting to other cities or states if such incidents happen often, startups will continue to stay around in Bangalore for long time. Because no other city in India currently has this kind of talent and entrepreneurial climate," adds Abraham.
Like this report? Sign up for our daily newsletter to get our top reports.
---