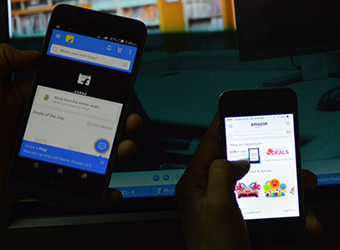 Ecommerce giant Amazon India's largest seller Cloudtail has launched Symbol, an in-house private fashion label. The brand is one of the six labels that the company is set to release this year. The private label has been launched ahead of the Diwali season sales to develop traction for the brand among shoppers. The remaining brands will be launched by Cloudtail by year-end, a report in Mint stated on Tuesday.
Private labels or in-house brands get better margins. While regular brands get e-taliers gross margins of 35% to 45 %, for private brands, it can be as high as 60% to 65%.
Amazon India, which is facing stiff competition from rival Flipkart, has been gearing up for the festive season for several months now. It increased its operational capacity by opening 24 new fulfillment centres and also boost its seller base from 40,000 last year to 120,000 presently. Its offline shopping initiative Udaan has also expanded to 100 cities and towns in 14 states from just three states last year. On Monday, the company set up Seller Cafes in 24 cities and towns in India which will be operational from October 1. These cafes will provide offline support services and training for sellers using the marketplace.
Rival ecommerce firm Snapdeal, on the other hand, launched a new wholesale unit, E-Agility Solutions, that will bring on board fashion brands that sell directly to customers. The move was made in order to tap the fashion vertical which constitutes 20-30% of Snapdeal's business.
The three main ecommerce players in India - Flipkart, Amazon and Snapdeal are all vying to secure their positions in the ecommerce segment. While Flipkart and Amazon are fighting for leadership, Snapdeal is looking to consolidate its position to the third slot. Through its Big Billion Day sale, Flipkart hopes to attract customers with best deals and Snapdeal has rebranded itself with a new logo and tagline 'Unbox Zindagi'. It also launched free next day delivery and private cloud platform called Snapdeal Cirrus.
Like this report? Sign up for our daily newsletter to get our top reports.
---