How a Facebook community grew into a 50,000-strong network for mothers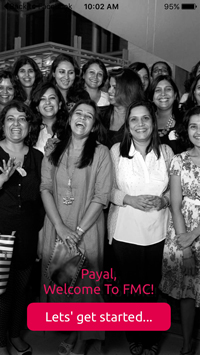 A graphic designer by profession, Ruchita Dar Shah worked in the advertising industry for nine years. Being married to an ex-banker, however, meant considerable travel and breaks in her career (Ms Shah happens to be the spouse of Manish Shah, co-founder and CEO of BigDecisions.com, a company owned by News Corp, which is also the owner of the publisher of VCCircle.com). In her experiences as a mother living abroad, the baby centre she went to did not cater to the needs of Indian mothers. That's where the idea for First Moms Club (FMC) came about. The idea behind setting up the community was to enable Indian mothers to connect back to their roots.
"I found a lot of small town moms, and moms abroad who wanted to connect with being Indian," explained Shah. While the small town mothers wanted to know what was happening in the metros, the NRI moms wanted to go back to their roots. "It grew organically. When the community grew very large, I realised there was a lot of potential," she added.
Established in 2010, FMC started out as a community on Facebook with 20 members and has till date added 50,000 users on the platform. FMC launched the beta version of its app on the Google Play Store and the App Store in April this year, which has garnered 5,000 downloads, so far. The app's open market release is set for early October.

"FMC stands out from the other communities. It is not a parenting website or a blog, where it's a one way traffic, like a panel of experts or blogger telling users what to do. It's a platform for women to come together and (share their experiences)," said the former Mudra Communications executive.
Besides an online community, FMC engages with mothers offline by organising events. It had its first event in 2014 called Momentum on International Women's Day, and has also organised a children's literature festival. Besides such gatherings, it also organises bazaars where women entrepreneurs can sell their wares.
One of the platform's main features is a corner where women can share any problems they are facing, anonymously. Here, they speak about medical issues, problems with mothers-in-law, career decisions, how to deal with family situations and even serious issues on domestic violence and child sexual abuse.

FMC, operated by Ruchita Rambles Services Pvt. Ltd, relies on brand partnerships as it main source of monetisation. The platform has done promotional campaigns for brands such as Huggies and Pampers, "Sometimes the promo is for the launch of a new product or for mompreneurs and small businesses. Conventional advertising is expensive. Communities become a cheaper way to reach the mother," explained Shah.
The venture is set to receive its first round of funding and will focus on partnering more with brands. FMC will also become a platform for brands to conduct their research. "We did this thing with Huggies where they came out with a product and we sent it out to 20 mothers on our community and then got feedback. There was a GPS tracker for kids and we did a contest. The mothers tried it out for three weeks and gave feedback," explained Shah. Such initiatives have been successful for brands because they get real feedback from their consumer base.

Besides brands, FMC is exploring monetisation streams through user-generated video, a loyalty programme for mothers, where they will receive benefits and discounts, and also launch e-books.
Four years ago, FMC tied up with an NGO AngelXpress for a toy donation drive for the children. The firm is now in the process of tying up with Mattel to provide a toy for each child.
Other players in the space include mycity4kids, Tiny Step and Baby Chakra to name a few. Mycity4kids is a content platform that helps mothers discover resources and events for their children and also connects users with mommy bloggers and parenting experts. Its main revenue stream is that of brand tie-ups through sponsored content on its website.

Baby Chakra, founded in 2014 provides listings around baby activities such as events, playschools, day care centres, wellness activities and education in various packages. It monetises through commissions from online marketplaces such as Amazon and Flipkart for transactions carried out through the Baby Chakra portal.
Like this report? Sign up for our daily newsletter to get our top reports.
---