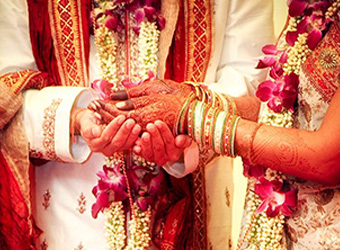 Finding a bride or a groom for someone getting married for the first time isn't an easy task. Arranging a match for the second time can be painful, as Vivek Pahwa found out until he got help from the Bombay High Court.
Pahwa is the founder of Accentium Web Pvt. Ltd, which operates Secondshaadi.com, a matrimonial portal mainly targeted at widowed people and divorcees. He ran into trouble when People Interactive (India) Pvt Ltd, which owns rival matrimonial portal Shaadi.com, approached the court to stop the company from using the word shaadi—Hindi for marriage—in its domain name.
People Interactive also accused Pahwa of "passing off" and urged the court to de-register or terminate the rival's domain name registration. Passing off, in trademark law, means making a false representation that is likely to induce a person to believe that the goods or services are those of another.
Shaadi.com was launched at the turn of the 21st century. According to court filings, Shaadi.com recorded gross revenue of Rs 141 crore in 2014-15, compared with Rs 32 lakh in 2000-01. It claims it has 20 million registered users for its various services.
Accentium Web launched Secondshaadi.com in 2006-07. The company also owns price comparison website Priceraja.com. Pahwa had previously founded and sold auto portal Gaadi.com and Desimartini.com, an entertainment portal which was previously a social networking site.
‎Secondshaadi.com argued that its rival knew about the website since 2007. However, it was only in September 2013 that Shaadi.com sent a notice to the company to stop using the name. "For those intervening years, the plaintiff (Shaadi.com) sat by idly and allowed the contesting defendants (Secondshaadi.com) to build their trade until it felt threatened," it said.
The Bombay High Court agreed with Pahwa's company and dismissed the petition by Shaadi.com. The court said in its order that the word shaadi is generic and hence Shaadi.com cannot stop others from using the word as a prefix or suffix for their portals.
"If courts allow monopolies of this nature, then we should expect, and sooner rather than later, exclusivity claims over words like grocery, secretary, investment and so on because some persons have set up domain names using those words," Justice Gautam Patel said in his order passed last week. "This is inconceivable, and it is not the law."
The court also said that Pahwa's company had placed the word 'second' prominently above 'shaadi.com' and that the domain name secondshaadi.com was a sufficient variation from People Interactive's website. It added: "The font and stylization of the contesting defendants' mark is completely different from that of the plaintiff. So, too, is the get-up and look-and-feel of the two websites."
Pahwa welcomed the court order. "The ruling will have wider implications on the entire industry, and not just on us, because the court has acknowledged the fact that domain name is mere address and not the trademark," he told VCCircle. "The order is in the line of our expectations."
Phone calls and text messages to People Interactive went unanswered.
Like this report? Sign up for our daily newsletter to get our top reports.
---