Crowdfunding platforms call SEBI notice unjust, seek clear rules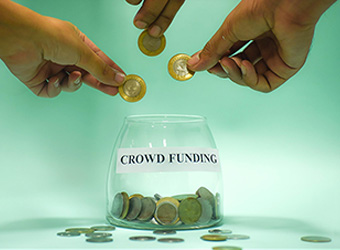 Indian crowdfunding startups have reacted sharply to a notice by the Securities and Exchange Board of India (SEBI) that warned investors against such online platforms and said that the capital markets watchdog should bring clear regulations if it wanted to govern the growing segment.
In its notice on 30 August, SEBI had said that a few electronic platforms were facilitating fundraising on digital platforms that are "similar to the platforms of stock exchanges". The notice put a question mark on the very existence of crowdfunding platforms in the country.
"These digital platforms are neither authorized nor recognized under any law governing the securities market. Investors are hereby cautioned that all dealings on such unauthorized electronic platforms would be in contravention of the relevant securities laws," the notice said.

The crowdfunding segment has grown considerably in advanced economies. Globally, an estimated $34 billion was raised via crowdfunding in 2015, according to a report published by Massolutions. But it is still at a nascent stage in India, where most online crowdfunding platforms have come up only in the past two to three years. The SEBI notice, which warns investors against equity crowdfunding, comes as a shock to many such firms that include LetsVenture, Grex Alternative Investments Market, Equity Crest, Tracxn and AngelList.
While LetsVenture and Tracxn declined to share their views on the notice, Equity Crest's founder Deepak Gupta felt SEBI's language was "overbearing" and doesn't accurately describe the situation.
"There is a way to caution investors, be a little more specific as someone can interpret the regulation and say you are doing something wrong or right. It's not helpful for anybody. Most people who are doing this are well-intention people. It's not clear to me what exactly SEBI has in mind," said Gupta.

Six startups have raised nearly Rs 25 crore in funding through the Equity Crest platform.
GREX has been reportedly asked to stop taking on board new investors or taking up fundraising mandates from startups.
GREX founder Manish Kumar said that the regulator should develop the nascent market through positive regulations and that it should allow at least some entities which it thinks are serious and eligible enough to carry forward the primary market agenda.

"GREX is a serious private placement based platform. It follows the principle of informed investing," Kumar said. "This statement by the regulator classifies all such players in the category of outlawed entities – something that is very unfortunate."
The SEBI notice has not just surprised equity crowdfunding platforms but donation and reward-based platforms such as Ketto, Dreamwallets and Catapoolt, too. Catapooolt founder Satish Kataria said the SEBI notice was an "unjust" reaction. "We call India the world's largest democracy. Then how can you hold back what can actually become a truly democratic way of raising funds?"
Kataria also said a healthy dialogue between the industry and the regulator will help the situation. "SEBI should issue clear guidelines to help us structure the industry, instead of banning the whole concept."

Catapooolt has helped raise about Rs 1.5 crore for 70 projects over the past three years.
Ketto, which claims to be Asia's largest crowdfunding platform and has helped raise over Rs 40 crore for 10,000 projects, says it is not subject to SEBI regulations. Its co-founder Varun Sheth believes the regulator's move is "immature".
Piyush Jain, CEO and co-founder of Impact Guru, said a regulatory framework for crowdfunding will facilitate the survival of fledgling firms in this segment.

"The startup ecosystem in India will benefit significantly if SEBI proposes a complete regulatory framework for equity crowdfunding like its international counterparts, that is the SEC (Securities and Exchange Commission) in the US and FSA (Financial Services Authority) in the UK," Jain said.
Some industry observers, however, said that SEBI is being cautious since several retail investors have been taken for a ride in the past.
"For regulators, the role is two-fold. One, create an environment to foster innovation. And two, ensure there is no fraud happening," said Sharanya Ranga, partner at law firm Advaya Legal.

Ranga, however, added the notice was rather surprising as SEBI had come up with a consultation paper on the subject in 2014. "It seemed that the regulator was fine with the kind of innovation happening in this space," she said. "The timing comes as a surprise."
This article has been updated to include comments from GREX.
Like this report? Sign up for our daily newsletter to get our top reports.
---