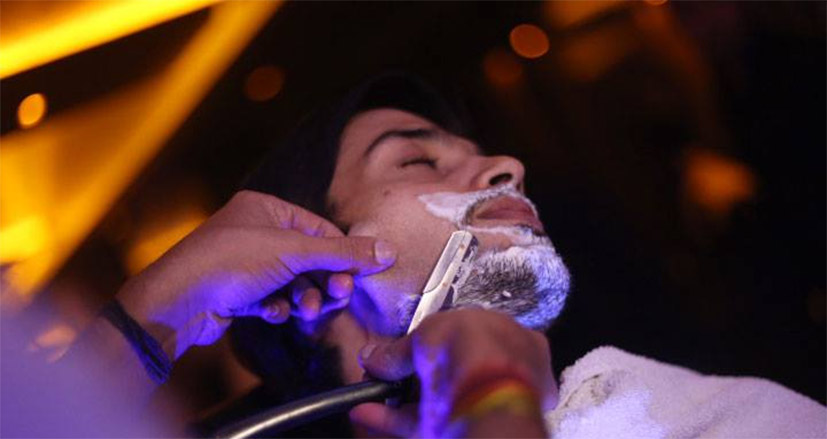 Arvind Jacob, a 34-year-old HR manager with a multinational bank and financial services firm, is always on a look out for beard grooming products. He does not like what is locally available and what he likes is mostly only available overseas. Then a few months ago he came across Ustraa, a young startup, which offers all that Jacob was looking for – beard oil, beard cream, beard wax and beard wash.
"The one I like the most is the beard oil since it smells good and gives my beard a shine," says Jacob.
Buyers like Jacob are leading to the creation of men-only grooming startups in the country. The educated, affably paid and the well-travelled customer is wiling to pay for it, even at a premium, if need be. What's more? They are as particular as women when it comes to how they look and feel.
"For me grooming is part of personal hygiene and that's definitely a requirement. I make sure my hairstyle and beard is on point," said Valerius, a 22-year-old working professional from Mangalore.
Catching up with the demand, several startups have been launched in the last two years to tap opportunities in this growing market. The Indian men's grooming market is expected to register sales of Rs 14,200 crore by 2020, up from Rs 7,500 crore in 2015, according to the estimates of Euromonitor, a global market research firm. To be sure, a majority of these startups have registered a whopping 20-30% growth rate on a month-on-month basis.
TechCircle looked at five startups that started last year, their business model, biggest markets and fastest moving products:
Bombay Shaving Company: Shantanu Deshpande, Deepu Panicker and Raunak Munot founded Bombay Shaving Company in 2015 and has a flexible subscription based model. It sells six-part shaving regimen products - six-set razor, brush, pre-shave scrub, shaving cream, post-shave balm and blades, also distinguished shaving blades. The startup is doubling its turnover every quarter.
Their most sought after products include razors - 'Apple of Shaving' and "Bentley of Razors'.
While metros comprise most of their clientele, cities like Jaipur, Indore, Lucknow and Pune account for 25% of their orders.
"The industry is growing at 25-30% year-on-year. We aim to be a Rs300 crore brand in next three years and an estimated Rs1000 crore turnaround by 2022. We plan to expand to over 100 SKUs (stock keeping units) and have our presence on both online and offline channels in the next 24 months," Shantanu Deshpande told TechCircle.
Bombay Shaving Company raised seed funding of Rs. 4 crore in August 2016 from McKinsey India's managing director Noshir Kaka, former chief executive of Tata Consultancy Services Subramanian Ramadorai and Kiran Deshpande, former chief executive of Tech Mahindra.
Beardo: Ashutosh Valani and Priyank Shah launched Beardo in 2015. It sells a range of products especially meant for men's beard and moustache. Beardo oil, Beardo wash, Beardo Beard & Hair Growth Oil, Beardo Ultraglow, Brick soap and moustache wax, etc. are among some of the products available online. They claim to make all their products from natural and organic ingredients.
The recently launched line of products Beardo Lite is more economical and caters to a younger crowd. Currently, the startup is bootstrapped.
Ustraa: Founded by Rajat Tuli and Rahul Anand in 2015, the parent company- Happily Unmarried - raised Rs. 5 crore in July from Info Edge, taking the total investments to Rs21.3 crore.
Ustraa sells everything from 'mooch oil' to body and face washes, fragrances, shaving accessories, skin care products made especially for Indian conditions. Ustraa claims all its products are completely free of parabens and sulphates. Other than the products, they also offer a blog – Rascal's Guide, which addresses men's grooming needs.
It has several subscription plans and the customer base is spread across cities. "The very encouraging sign is that the orders are equally split between Tier 1 and Tier 2 cities. The buying patterns are also very similar. At last count, we had serviced over 1700 towns across India," said Tuli.
LetsShave: Founded by Sidharth Shankar Oberoi in 2015, LetsShave is bootstrapped and is an exclusive partner for Korean giant Dorco in India. It aggregates quality razors and introduced world's first six-blade razor with different trimmers. It also sells tailor-made blades for different skin and hair types.
"We expect to achieve one million customers and $10 million revenue in three years," said Oberoi.
At LetsShave, members do not have to pay any upfront fees - they only pay for the box when the box is at their doorstep. Also, customers can buy their products to try before enrolling in shave plans.
The Man Company: Founded by Rohit Chawla, Paresh Bareja, Bhisham Bhateja in 2015, the company offers a head-to-toe range of grooming essentials like hair gels, shampoos, face washes, beard oil, beard washes, shave gels and fragrances, with 100% natural oils. It has raised an undisclosed amount of funding and its investors include Karan Bajwa, managing director of Microsoft India, Airbnb's country manager Amanpreet Bajaj and Manish Vij, founder of SVG Media.
Industry observers say women's grooming segment is far bigger because the bigger brands target women as their core consumers. Male-specific brands are also far lower in number and there are many products available in the market that are used both by men and women.
"The percentage growth in men's grooming products will be higher than women because the base is very small. But if you look at the total size of the market, women outshine men eight times to one. So, there's no comparison at all," says Rahul Bhalchandra, founder and chief executive of R&R Salons Pvt Ltd, which runs YLG salons. "Question is how long will you sustain on this 20-30% month-on-month growth model," says Bhalchandra.
Well that's a question that only time can answer.
Like this report? Sign up for our daily newsletter to get our top reports.
---