Exclusive: Uber's bike share service UberMoto goes cold in Ahmedabad

Is Uber's bike-share service UberMoto facing viability issues in Ahmedabad? By the looks of it, it is.
TechCircle tried to book UberMoto using various locations in Ahmedabad, at different times of the day, for two days (Thursday and Friday), but it showed 'no motos available.'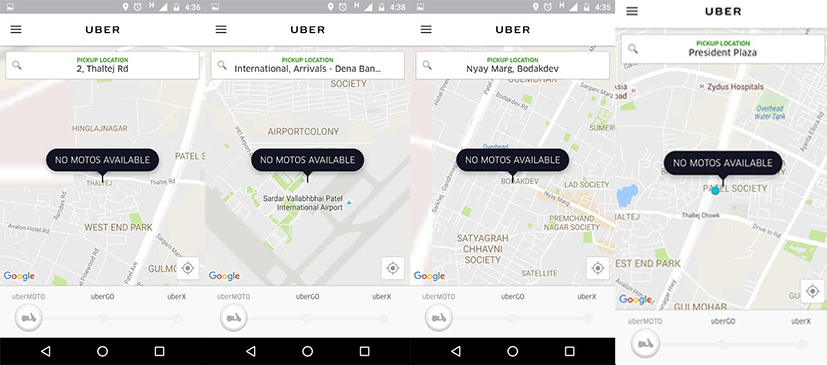 Not ready to give up on it, TechCircle then tried the phone number (07939593252) listed on Uber website to become an UberMoto driver partner. We were notified that we will be contacted through an SMS, which didn't happen.
The unavailability of bikes was not just restricted to one area. Customers across Ahmedabad testified that the bike share service is not available in the city.

"I am not getting the bike service here, and I have seldom seen anyone using it in Ahmedabad. The cab culture is picking up here, but not as much as compared to metros," says Chandni Bhagchandani, an IT company professional in Ahmedabad.
Another Uber customer in Ahmedabad, Rits Choudhary, also confirmed to TechCircle that UberMoto was not available, when he was trying to book it.
Email sent to Uber's media relations executive didn't elicit a response at the time of the writing of this article. Messages sent to Bhavik Rathod, Uber's South and West India General Manager remained unanswered.

Uber had launched its bike-share service in Gurgaon in March this year and in Ahmedabad in May this year. In Ahmedabad, the pilot was launched at Rs 2 per kilometre. In Gurgaon, when checked by TechCircle, UberMotos are still available.
Uber's India rival Ola's bike service Ola Bike is functional only in Gurgaon.
In March this year, both Uber and Ola had launched bike taxi services in Bengaluru as well but had to halt operations days after the launch due to regulatory problems. The state government cracked down on the two companies on the ground that, as per the Motor Vehicles Act, 1988, enforced in Karnataka, a two-wheeler is considered to be private transport and that bike taxis need to be licensed for commercial use.

In May this year, Uber had to suspend UberMoto in Bangkok, Thailand due to government intervention. UberMoto was launched in Bangkok for the first time, globally.
Like this report? Sign up for our daily newsletter to get our top reports.
---