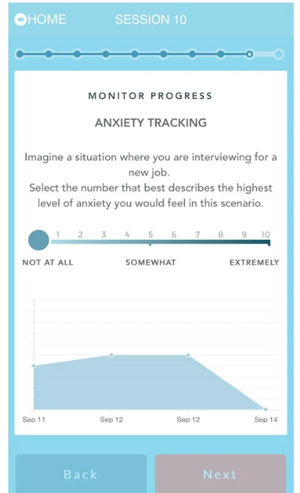 Even as good health remains the core of modern day existence, mental health is usually not considered an issue to be taken up on priority. The result is depression, anxiety and stress have become silent killers of the day.
36% of Indians are likely to suffer from depression at some point of their life, according to the World Health Organisation, which conducted one of the most comprehensive studies on mental health across the world in 2011. Mental health issues impact personal as well as professional life and need to be treated like any other disease.
In order to create awareness, inspire individuals affected with mental issues to seek help and make such help accessible, a new mental healthcare app wayForward has recently been launched in India. "What is happening with people on the physical side is the result of the trauma on the mental side," says Ritvik Singh, the co-founder and the CEO. "The whole company was started from the thinking that there is lack of access to specialists to solve this problem and there is a lot of stigma associated with it," he adds.
wayForward recently tied up with healthcare chain Fortis to expand its footprint even as it remains an online platform accessible to general public.
How does wayForward work?
wayForward is an app-based program which uses Cognitive Behaviour Therapy (CBT), mindfulness and other techniques to solve the problems caused by anxiety, depression and stress. The programme works simultaneously with a wayForward coach app where a user can chat and make voice calls to the coach.
The app which is currently available to users on an invite-only basis allows them to select various goals. The goals are classified under work, relationships and performance and further classified into sub-categories such as work-life balance, productivity, social gatherings, attending interviews anxiety.
Explaining the rationale behind building the app with a result-driven approach instead of problem-driven method, Singh says: "Those are the aspects people understand. If we start talking in more technical terms like anxiety, stress depression people don't care about it. They care about the impact. We have made the program in terms of what kind of results the people like to achieve."
He further says each program is designed to be accessed along with a coach who will help user to attain the maximum benefits out of the program.
The founding team
The New York-based company was founded by the trio of Singh, Navya Singh and Stan Miroshnikov in early 2015. Navya holds MA degree in Psychology from Columbia University, also a doctorate in Psychology from Albert Einstein Medical College, Yeshiva University. In US, they only work with partnerships not work with the customers directly. They operate through a SaaS model.
She is also a Harvard certified in Global Mental Health specialising in Mass Trauma. Singh, her husband, is an alumnus of IIT-Delhi and Columbia University and has over a decade of experience as a manager and markets expert on Wall Street at major investment banks including Citibank and Deutsche Bank.
Miroshnikov is also an alumnus of Columbia University and serves as the chief technology officer (CTO) for wayForward.
Pricing and Traction
The company directs users to download the coach app after which an expert calls the user to understand the set of problems the user is facing before assigning a coach. Once the coach is assigned the user is given access to programs.
The one month program costs Rs 3000 while a six-month program is priced at Rs 2100 per month. The user can chose multiple goals to achieve with a dedicated coach which is allotted to him. As of now, the company is only offering coach guided programs but will soon launch self-use programs in the future which will cost Rs 500 per month.
Currently, the app has a handful of users in India while it has around 7,000 users in the US where it operates using a SaaS model. wayForward also has 28-29 mental health professionals in India on its platform and wants to grow the number to 50 by the end of this month.
Funding, competition and growth plans
The company has invested close to $250,000 in building the product out of which the major chunk has been utilised in research. It had also raised a friends and family funding round from technology executives in the US. The company is currently in talks with few angel investors to raise more money.
wayForward will directly compete with VC-backed online counselling and support platform YourDost. YourDost had recently raised $400K in angel funding from angel investors including redBus co-founder Phanindra Sama, TaxiForSure co-founder Aprameya Radhakrishna, Capillary Technologies founder Aneesh Reddy and Smartur founder Neeraj Jawalkar. Sanjay Anandaram, partner at Seedfund.
Singh says YourDost is a free platform which connects a person with a set of counsellors for small sessions of chat while wayForward follows a result-oriented approach and its programs are divided into goals. Each program has to be completed with a help of a coach. The program consists of breathing exercises, videos, other tools.
Singh says, India will be the primary target market for the company and he also has plans of relocating to India in a few weeks. "We really want to focus on India and see the growth in terms of Indian market. Also, India has a much bigger stigma, much bigger gap. So, India will be our primary target in the coming times and in US we will continue to work through partnerships."
Alarming need to address mental issues
Vineet Khurana, vice-president, Chandigarh Angels Network feels that stress is major problem and can be tacked effectively using technology-based solutions.
"As per the global stats, the stress alone costs over $300 billon to the working population and anxiety has become a personality trait in every 1 of 12 people worldwide. There are many reasons to this alarming problem like stressful work environment, insecurity, relationship breakups etc. Stress is a massive problem to be targeted and the focused players addressing it rightly are expected to grow over the time," he says.
Like this report? Sign up for our daily newsletter to get our top reports.
---