Going back to its global business philosophy of being an early stage investor in fledgling companies, Sequoia Capital in India has decided to primarily make early stage, seed and series A investments going forward even as it remains open to writing "large cheques" for companies needing growth capital.
"Sequoia wants to be the first institutional investor in a company and we want entrepreneurs to think of Sequoia whenever they are getting started," Mohit Bhatnagar, managing director, Sequoia Capital, told TechCircle.
He, however, added that the investment firm "may sometimes write large cheques into companies that we have gotten to know over the years". But that, he said, will be "an exception". "…the focus remains early stage," he emphasized, adding: "Sequoia would like to grow investments by investing in multiple rounds as the (early stage) company grows."
Sequoia is reported to have closed a fund of $920 million early this year. The early and very early stage investments Bhatnagar is speaking of, will be made from this fund. While Bhatnagar refused to confirm if the size of the fund indeed was $920 million, the new investment philosophy seems contrarian because in the investment industry cheque sizes are in proportion to the fund size.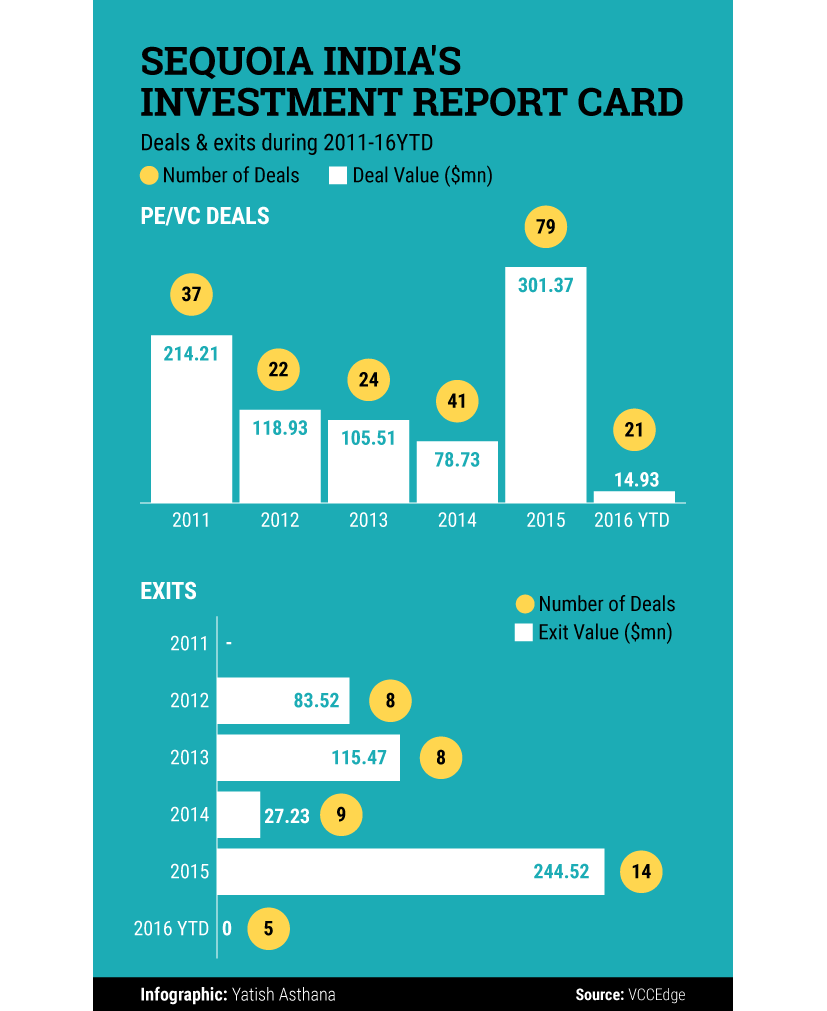 The ethos articulated by Bhatnagar reflects a clear departure from the past that the global venture firm has so far followed in India. In India, Sequoia Capital has primarily been seen as a sector and stage agnostic investor. In the past 10 years, it has invested in over 130 firms at various stages, including late stage, deploying more than $2 billion and has exited from over 55 firms. The unicorns in its Indian portfolio are Mu Sigma, Ola and Zomato.
The venture firm was not an early investor in any of these unicorns and in fact, came in at a time when they were at a growth stage.
Globally, Sequoia has been following early stage investing since long. According to the US-based venture and angel investment research firm CB Insights, of the 17 global unicorns that it in its list last year, for instance, Sequoia was an early stage investor in nine of them. Its portfolio comprises of globally acclaimed unicorns such as AirBnB, Evernote and Square.
Being an early investor has its perks, say experts. Early stage investors, for instance, get to back innovative ideas, stand to reap richer rewards (though the risks of failures are also higher) and also, be a part of a company's journey from inception and not come in at a time when the valuations are going through the roof.
If one looks at the unicorns in India today, a majority of them are from the 2007-10 vintage, which were initially backed by early stage tech-focussed investors such as Accel Partners, Matrix Partners and Kalaari Capital.
The second wave of unicorns will come in 2018-19 and may belong to the 2014-16 vintage, says Mukul Singhal, co-founder and partner at Pravega Ventures, an early stage fund.
So, is Sequoia now on a prowl for more unicorns in India?
Bhatnagar, who is on the board of several Indian startups including unicorn Zomato, chooses to play it diplomatically. "Any investment firm is only as good as its last investment. Whether you are an investor or a founder, nothing beats staying hungry and humble," he says.
In terms of sector priorities, Sequoia is keen on making bets on payments and financial services companies. Incidentally, the firm recorded some big exits in the financial services and financial technology space in India in the past three years. Last week, online payments firm PayU acquired Citrus Pay, a Sequoia Capital portfolio firm, for $130 million. Sequoia Capital owned nearly a 32% stake in Citrus Pay and is estimated to have made a four-fold return on its investment.
In 2013, it had exited from Prizm Payments after the company was acquired by Japan's Hitachi. While exit details were not revealed, Prizm gave "very large returns" for Sequoia, say industry insiders. It has also part exited from Ujjivan, which went public earlier this year. Incidentally, Bhatnagar was on the board of all the three firms.
This year, Sequoia Capital has invested in 21 firms as compared to 79 last year. By the looks of it, the firm is slowing down in 2016. Bhatnagar, however, differs and says there are several deals that are under the wraps right now. In fact, he believes, 2016 will be a great year to build companies.
"The focus is now back on your own product's performance in the market and companies care less about what others are doing. Earlier, the focus was hijacked by fund raising and cash burn. We always say never waste a good down market and this is the time when one can build real companies," says Bhatnagar.
Some of the promoters that Sequoia Capital invested in say the firm has been there when they needed it. "They were with us during the MFI crisis (in 2010) and never lost faith. They helped us raise equity capital and bring in additional investors. We were the first ones to raise capital after the crisis," said Samit Ghosh, founder and managing director, Ujjivan Financial Services, a microfinance institution.
"They connected us with their portfolio companies, which are doing very well in Europe and US, so we learned from them. They know what works and what doesn't work, so they were able to validate our business assumptions because they are already seeing businesses of that nature," said Jitendra Gupta, founder, Citrus Payment.
Meanwhile, like all investors, Sequoia, too, has seen some of its investments hypothesis going wrong. One of its investee firm, on-demand grocery startup PepperTap, for instance, shut down its hyper-local delivery operations in April. Bhatnagar, however, says failure isn't a bad thing.
"Companies fail as much as they succeed. We shouldn't allow either outcome to get to our heads. Failure is healthy, it means we are partnering with companies taking risks and trying new models and innovations. Success is good too but let's not declare victory too early," said Bhatnagar.
Like this report? Sign up for our daily newsletter to get our top reports.
---